• If you enjoy a lunch on the mountain as I do then plan your skiing around lunch! It gives you a nice feeling to know that you have already booked and your table will be waiting for you at a certain time.
• I prefer either 12pm or 2pm lunches. This means you avoid the 1pm rush hour bookings which occur in ALL restaurants. You also get to ski on quiet slopes before or after your lunch while everyone and their uncle are filling up these mountain restaurants to bursting point.
• Service is also better and more relaxed both before and after this rush period. 1000's of skiers descend on the mountain restaurants at 1pm. Why be one of the masses? Be individual. Book in advance for a more personal greeting when you arrive (the new waiter may think you are an important old regular!). Plus you also avoid this crazy peak hour traffic. I promise you it works. Try it.

Meribel Mountain Restaurants – Chaudanne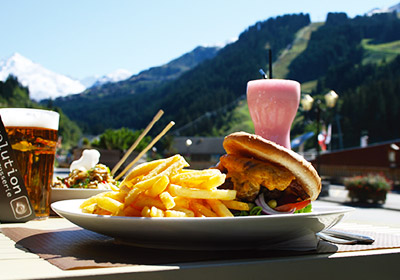 Evolution Restaurant
(Chaudanne)
It was a great, friendly restaurant just across the piste at Chaudanne. Sadly closed up in summer of 2018. We leave it on for nostalgic reasons.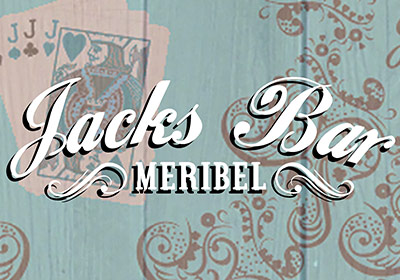 Jacks (formerly Meribar)
(Chaudanne)
Same owners as  Evolution & Jacks before they closed. Apres ski sessions now plus food served at breakfast , lunch and during the evenings.

Meribel Mountain Restaurants – Saulire & Tougnete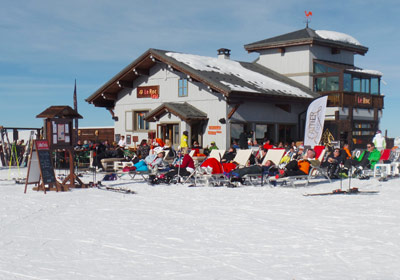 1928 Restaurant
(Summit Of Col du Loze)
A fabulous view from the large sun terrace located at the top of the Altiport fast Loze chairlift. The 1928 has a super new menu with incredible wine selection too. Great spot for a special lunch in the sun.
Le Bistro Du Monchu
(Just Above Le Rond Point)
This is a very beautiful up market restaurant boasting a superb sun terrace. It is located right  on the piste on your way down towards the Rond Point area from Saulire.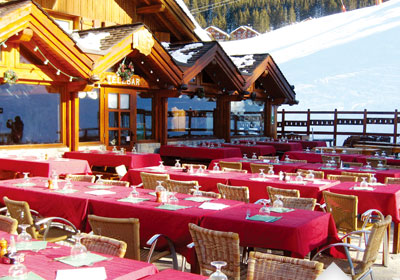 L'Adray Telebar Restaurant / Hotel
(On Piste at Rond Point)
This is a truly outstanding & upmarket, family run hotel restaurant.. Reservations are usually essential as this restaurant is extremely popular with both locals and regular skiers in Meribel.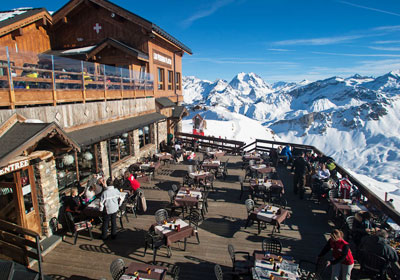 Les Pierres Plates
(Saulire Mountaintop)
Fancy a lunch on the very top of a mountain. Try this one. Not cheap but fantastic 360 degree terrace and it does have takeaway food too.  Another venue for a special occasion.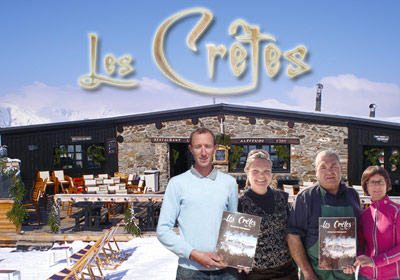 Les Cretes
(Top of Tougnete 2 Chair)
Christine & Jo Jo sold Le Cretes in 2019. It re opened as Maya Altitude in 2020 summer. We just leave it here for nostalgic reasons.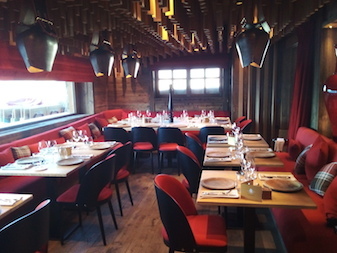 Maya Altitude
(Top of Tougnete mountain )
Maya Altitude restaurant is a new up market addition to Meribel. Access by Tougnete 2 or St Martin 2 chairlifts. It has a beautiful interior, an extremely extensive and interesting menu , plus a fantastic wine list.

Meribel Mountain Restaurants – Mottaret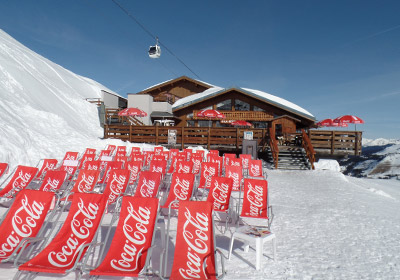 La Sittelle
(Sittelle Piste Near Moon Park)
A lovely restaurant with very friendly service. Can get very busy at times so best stop by and reserve a table if possible. If a sunny day early season sit on the piste side of the terrace . The sun goes down behind the mountain !
Nice stop for a morning coffee or hot chocolate too with their home baked croissants.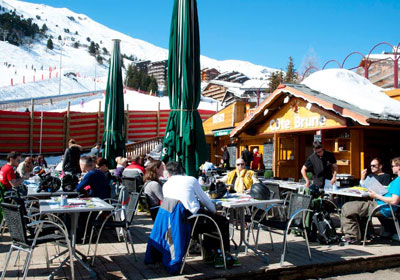 Cote Brune
(Mottaret Centre)
A very convenient location for meeting friends right in the centre. Very busy terrace in fine weather so sometimes a good idea to eat inside !Always busy so do reserve if possible.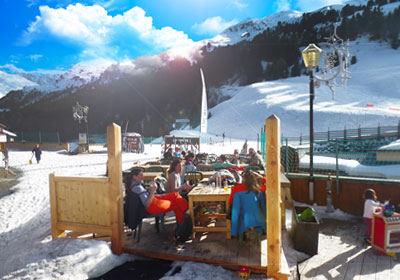 Zig Zag Restaurant
Mottaret (Chatelet Area)
Was  lovely little restaurant with lovely food, very friendly service, nice sun terrace. Sadly Annette closed it in 2020. It is now part of the much larger Rastro next door.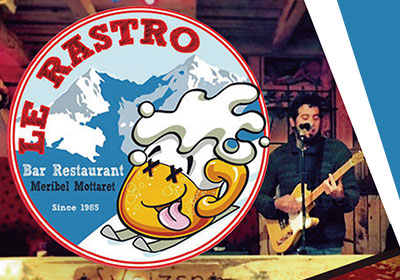 Le Rastro Restaurant
Mottaret (Nr Plattieres)
A great family run restaurant with a really excellent chef & very reasonable prices. The Plat Du Jour here is always superb value. We had many lovely lunches here last season. Well recommended.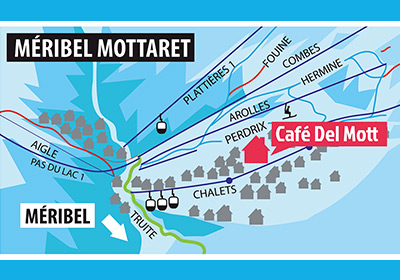 Cafe Del Mott
(Meribel Mottaret)
One of the best value restaurants in the 3 valleys with a nice simple buffet at lunch.  Burgers, salads, etc. Very cheap lunch. Self service.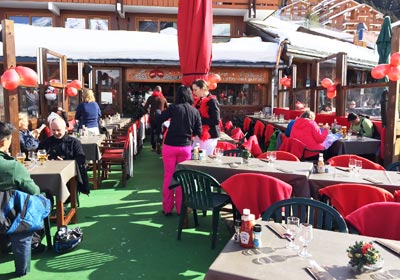 La Terrasse Restaurant
Mottaret (Nr Platteries)
A beautiful little restaurant over at the far side of Mottaret (chatelet), past Plattieres Gondola.. Great food with charming service from Steph & her staff.

The Village Restaurants – Meribel Village – Les Allues – Plantin – Altiport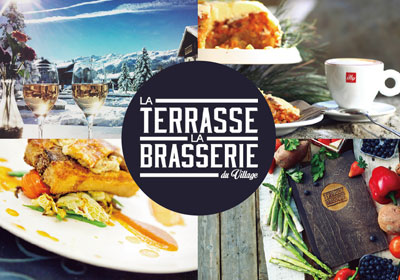 La Terrasse Restaurant
(Meribel Village)
Lodge Du Village is a very popular venue for lunch having been under new ownership for the past few seasons.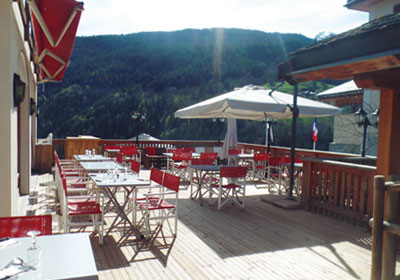 La Croix Jean-Claude
(Les Allues Village)
A lovely hotel restaurant for lunch in Les Allues. Nice little secluded sun terrace.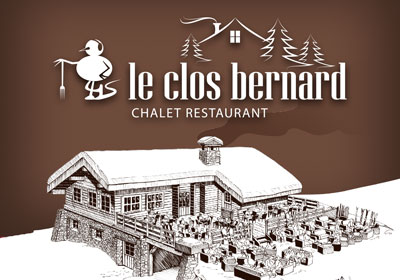 Le Clos Bernard
(Meribel Altiport)
Clos Bernard is a superb mountain cabin restaurant in the Altiport forest. A wonderful setting for a long relaxed lunch on the fabulous sun terrace.
Le Blanchot Restaurant
(Meribel Altiport)
Le Blanchot has been under new ownership since 2019  season of Matthew and Delphine previously of the Cro Magnon. Highly recommended for a superb quality lunch.

Meribel Mountain Restaurants - La Tania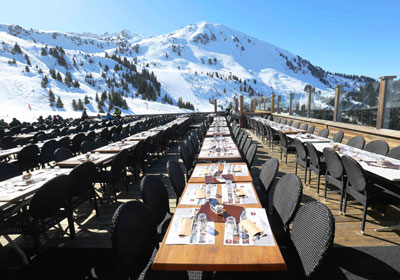 Le Bouc Blanc Restaurant
La Tania (Bouc Blanc Piste)
This is a really exceptional mountain restaurant, with wonderful food and incredible fast efficient service.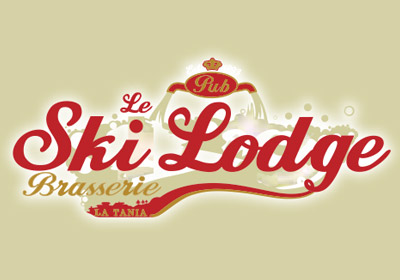 Pub Le Ski Lodge
(La Tania Centre)
Be sure to visit the "Ski Lodge". It's fun, famous and a perfect place for a great cheap pub lunch.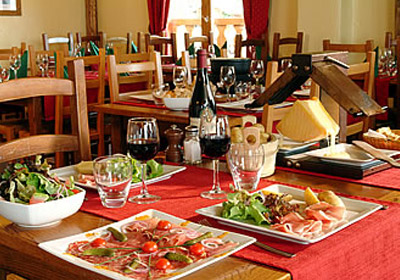 La Taiga Restaurant
(La Tania Centre)
Just across the road, behind the hotel Montana in La Tania. Le Taiga is very popular with the locals here. Worth seeking out.

Meribel Mountain Restaurants - Courchevel (1650)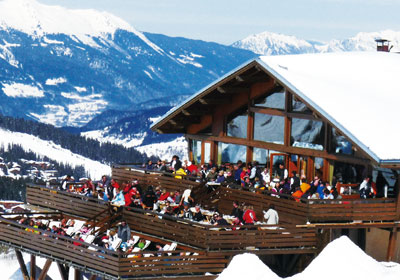 Le Bel-Air Restaurant
(Courchevel 1650)
The Bel Air is extremely highly regarded and has a wonderful reputation for excellent food, fast & friendly service and very fair prices.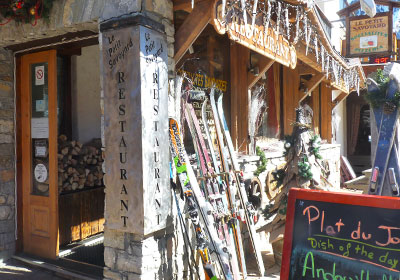 Le Petite Savoyard
(Courchevel 1650)
This is an excellent, charming restaurant. The service ,food and setting here are wonderful especially for cold weather. (no sun terrace).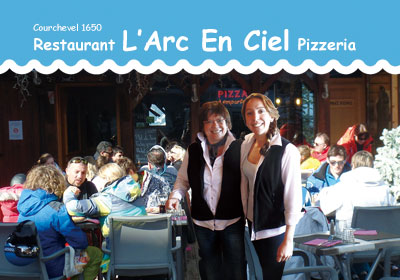 L'Arc En Ciel
(Courchevel 1650)
Change of owners and now named Copina. Will check it out sap.

Meribel Mountain Restaurants - Courchevel (1850)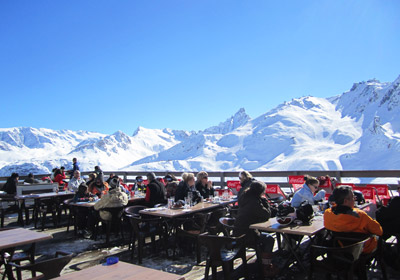 Les Chenus Restaurant
(Courchevel 1850)
Sadly closed. Now a very expensive new restaurant. Too expensive for us to check out!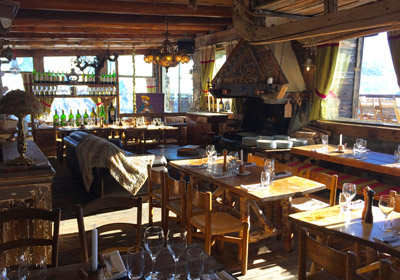 La Soucoupe Restaurant
(Courchevel 1850)
A wonderful, up market, high quality favourite restaurant for many years. Now under new ownership for so waiting to visit sap.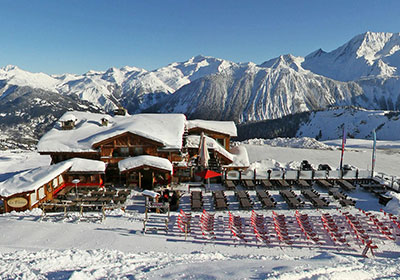 Le Pilatus Restaurant
(Courchevel 1850)
Courchevel 1850 is renowned for its superb but expensive restaurants, so to find one that is quite affordable in the exclusive Altiport area is quite a find. New owners but same management for next 2024 winter season. Menu might change  . Will update you later

Meribel Mountain Restaurants - Les Menuires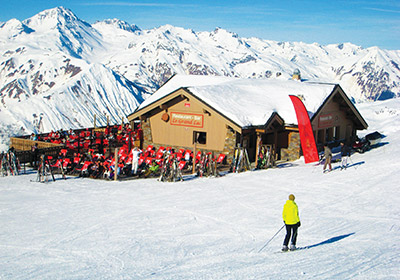 Le Grand Lac
(Les Menuires)
A beautiful restaurant, with great food very fair prices and 5 star toilets !! Friendly service, sun terrace. Great for lunch or morning coffees.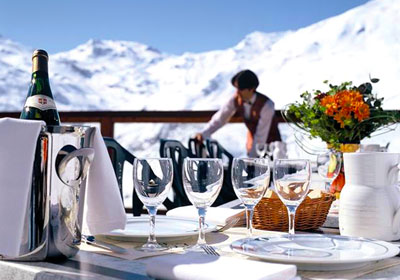 L'Ours Blanc
(Les Menuires)
L'Ours Blanc is one of the true hidden gems of the 3 Valleys. The previous owners Margaret and Pascal retired in 2020 but it is still a fabulous restaurant with a beautiful secluded sun terrace.
Le Ferme Restaurant
(Les Menuires - Reberty Village)
Another wonderful lunch spot with giant sun terrace, plus beautiful mountain view towards Val Thorens.GREAT value here and extremely friendly service. Highly recommended.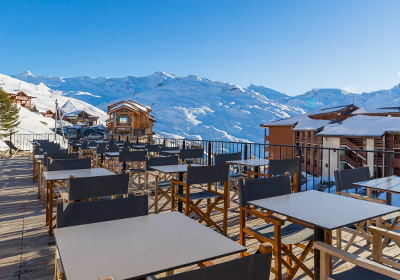 Hillary Hotel Restaurant
(Les Menuires - Reberty 2000)
A great venue for lunch with loads of history. The hotel was named after St Edmund Hillary, the first climber of Mount Everest.

Meribel Mountain Restaurants - St Martin De Belleville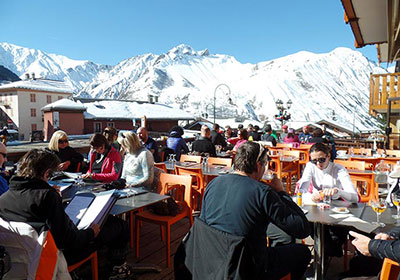 La Voute Restaurant
(St Martin De Belleville)
(Old Village Centre)
This is a truly fabulous restaurant in the village square opposite the old church.One of the best value restaurants in the 3 valleys.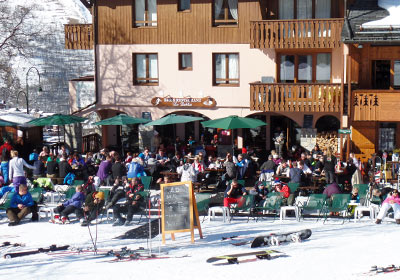 Le Dahlia Restaurant
(St Martin De Belleville)
(New Village)
This restaurant is in the new complex just opposite  the St Martin 1  gondola. Super sun terrace , lovely pub grub.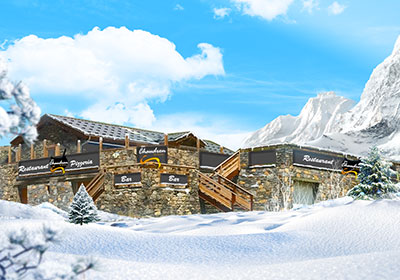 Le Ski
(St Martin De Belleville)
(Mid Station)
Le Ski restaurant  Saint Martin' is a lovely restaurant on the slopes in St Martin. It is located by the mid-station at the top of St Martin 1 gondola or you can ski down to it from Méribel on the Pramint or Jerusalem pistes. Lovely food. VERY friendly service.There are 2 restaurants at this junction. This is by far our favourite.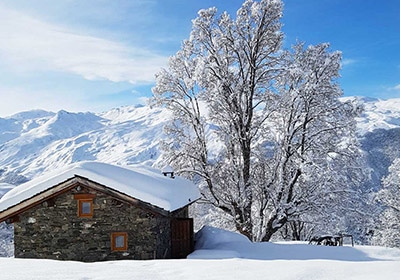 Le refuge Le Trait 'Union
(St Martin De Belleville)
(Just below Mid Station)
A charming refuge now converted to a lovely traditional restaurant  It has a warm rustic interior and a very rustic small sun terrace.

Meribel Mountain Restaurants - Val Thorens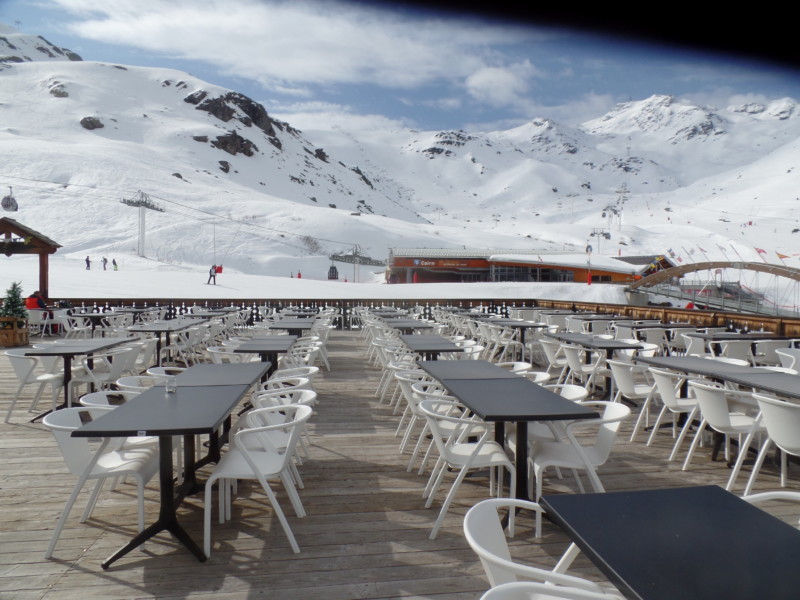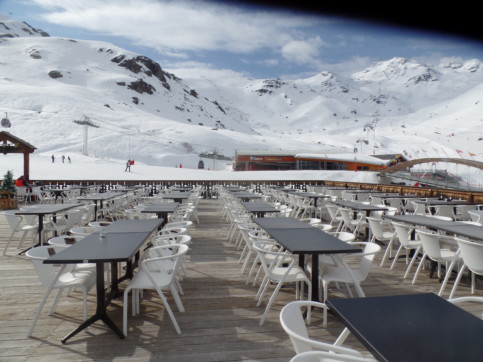 Chalet De Caron
(Val Thorens)
There are several reasons to take lunch at Chalet De Caron. Very friendly owners,who speak excellent English. Reasonable priced food as many restaurants in Val Thorens have become very expensive recently. But it is also a quick ski back to Meribel via Les Menuires. This is an easy route back after a nice lunch.