MERIBEL MOUNTAIN RESTAURANTS
(The Best Value Restaurants In All 3 Valleys)
• If you enjoy a lunch on the mountain as I do then plan your skiing around lunch! It gives a nice feeling to know that you have already booked and your table will be waiting for you at a certain time.
• I prefer either 12pm or 2pm lunches. This means you avoid the 1pm rush hour bookings which occur in ALL restaurants. You also get to ski on quiet slopes before or after your lunch while everyone and their uncle are filling up these mountain restaurants to bursting point.
• Service is also better and more relaxed both before and after this rush period. 1000's of skiers decend on the mountain restaurants at 1pm. Why be one of the mass? Be individual. Book in advance for a more personal greeting when you arrive (the new aiter may think you are an important old regular!). Plus you also avoid this carzy peak hour traffic. I promise you it works. Try it.

Meribel Mountain Restaurants – Chaudanne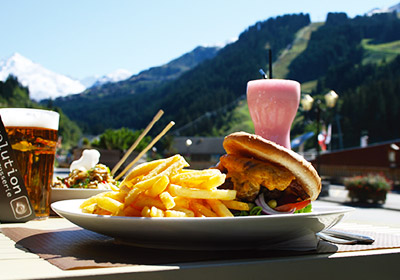 Evolution Restaurant
(Chaudanne)
It was a great, friendly restaurant just across the piste at Chaudanne. Sadly closed up in summer of 2018. We leave it on for nostalgic reasons.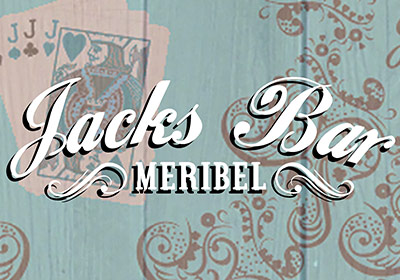 Jacks (formerly Meribar)
(Chaudanne)
Same owners as  Evolution before it closed. Apres ski sessions plus food now served at lunch and during evenings.

Meribel Mountain Restaurants – Saulire & Tougnete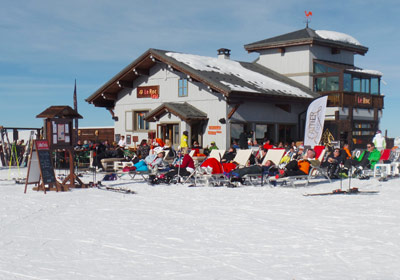 1928 Restaurant
(Summit Of Col du Loze)
A fabulous view from the large sun terrace located at the top of the Altiport fast Loze chairlift. The 1928 has a super new menu with incredible wine selection too. Great spot for a special lunch in the sun.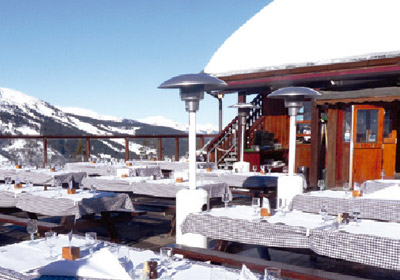 Le Rond Point
(Rond Point)
This is a very popular venue with Brits with  lunch served on the giant sun terrace. Music starts at 5pm.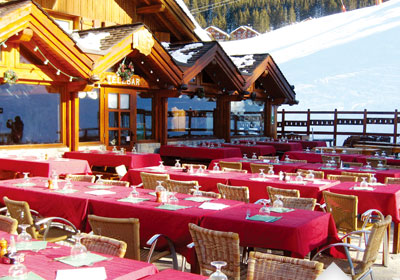 L'Adray Telebar Restaurant / Hotel
(On Piste at Rond Point)
This is a truly outstanding & upmarket, family run hotel restaurant.. Reservations are usually essential as this restaurant is extremely popular with both locals and regular skiers in Meribel.