MERIBEL CENTRE APARTMENTS FOR RENT
Meribel apartments for rent throughout the ski season in the town centre. The main town includes Morel, Meribel 1600 , Plateau, Rond Point & Altiport areas.
We have over 150 Meribel apartments for rent, with many in Meribel centre.
Browse all our apartments or just e-mail me direct:
[email protected]
I will then do a fast search for you!
REASONS TO CHOOSE MERIBEL APARTMENTS IN THE MAIN TOWN
We have over 150 privately owned self catered Meribel apartments in and near the Main town. Just choose your size. Note that in France apartments are all quite compact. Feel free to e mail us to search for you.

Meribel has a great free bus service running all over town from 7.30am till midnight.

Meribel town has its famous apres ski and nightlife all on your doorstep.

Meribel Town has 5 supermarkets and a self service launderette.

Meribel town has over 20 great restaurants for a night out.

All apartments in Meribel are just minutes away from the piste on the free bus service.

All apartments have well equipped kitchens including a dishwasher.

The apartments in the main town are never far from a bus stop.

All the Meribel ski apartments are self catered. However there is a meal delivery service available in the winter season.
YOUR GUIDE TO MERIBEL APARTMENTS FOR RENT IN 2018

Studio Apartments (For 2 – 6 Persons)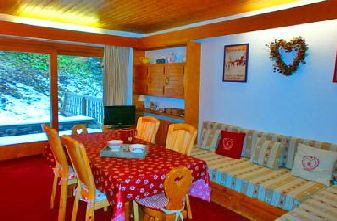 Typical Lounge
Studio apartments  are normally quite similar in size and style to a typical fully furnished uk bedsit. The lounge /sitting room is quite small and usually has a double bed settee plus a single or sometimes 2 bunk beds in an alcove / recess in the hall. Studio apartments have limited storage but usually have a cave in the basement of the apartment block for skis & boots.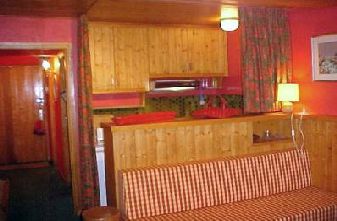 Kitchen
All the Meribel studios for rent have a small but suitably well-equipped kitchen with all the cooking essentials. The cooking/food preparation area normally consists of a 2/3 burner electric hob, oven and/or microwave, a fridge with a small freezer unit plus a dishwasher. Note: Almost ALL French self-catering ski apartments come with dishwashers as standard.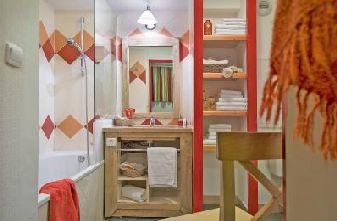 Bathroom
Studios in all ski resorts in France tend to have small but ample bathrooms. They come usually with a toilet/lavatory, washbasin, and booth with a shower cubicle. Some but not many of the studios in Meribel will feature a full-length bath. This is a luxury usually reserved for the much larger apartments although some of the older ones do feature a large bath.

Meribel Apartments With 1 Bedroom (For 2 – 6 Persons)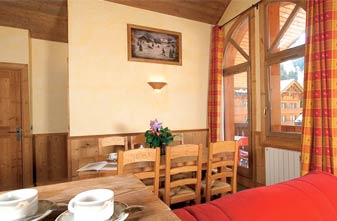 Typical Dining Area
One Bedroom Apartments normally have a good sized lounge area for up to 4 guests. Most Meribel apartments are often equipped with French TV and sometimes wifi is available too. They do vary greatly in size and prices reflect this.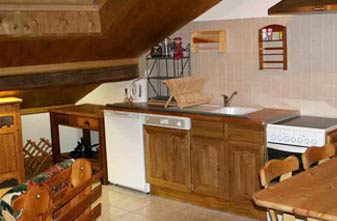 Kitchen
Kitchens in one bedroom apartments are usually well equipped for at least 4 guests. You should find 4 hobs for cooking, oven or microwave, fridge freezer and dishwasher. Some Meribel apartments of this size have a washing machine too.
Bedroom
The larger 1 bedroom accommodation sometimes sleep 5 or 6 guests, but tend to be more expensive and more spacious. Bedrooms are normally twins but can usually be joined together to make a double.

Meribel Apartments With 2 Bedrooms (For 4 – 6 Persons)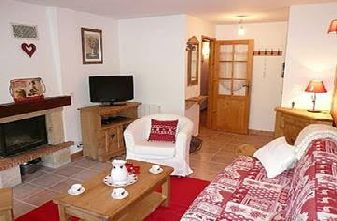 Typical Lounge
2 bedroom apartments  normally sleep 6 or 7 people. Most 2 bedroom Meribel apartments normally have a bed settee in the lounge area for 2. They usually come with either 1 double bedroom plus a twin or double bunkroom.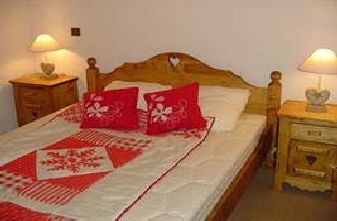 Bedroom
For 2 bedroom apartments the bedrooms come in various make-ups. A mixture of doubles, twins and bunkrooms. Some even have a family bedroom for 2 adults and 2 children. TV and DVD are often included.

Meribel Apartments With 3 Bedrooms (For 6 – 8 Persons)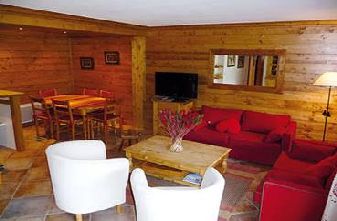 Typical Lounge
3 bedrooms apartments in Meribel are often quite luxurious and certainly seem spacious. Most apartments are 6 berths in  3 bedrooms and another 2 berth option if needed on the usual bed settee provided in the living/sitting room. They will have ample storage and the cave in the basement of the apartment building for skis and boots.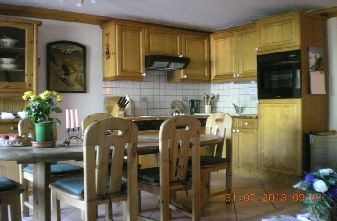 Dining Area
We have a great choice of ski accommodation with 3 bedrooms with a location near the main town. Many have TV, DVD, and some have log fires. The dining area will be comfortable for all the guests on vacation there. They all have very well equipped kitchens with dishwasher and many also have a washing machine for clothes washing.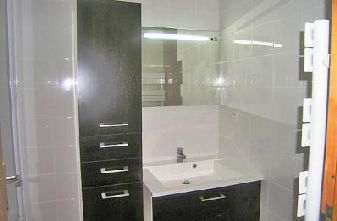 Bathroom
Most 3 bedroom accommodation comes with  1 or 2 bathrooms. The bathrooms tend to be larger than those in smaller apartments with both a full length bath and shower unit. The toilet / wc location may be in the bathroom. If so there is often another separate lavatory too in a different location within the flat.