Mottaret Apartments
Mottaret Apartments are almost all ski in ski out. Some of the larger ones also have a log fire. Here is a small selection. We have over  70 available for rent during the 2018 ski season. Most  apartments are located on  the Laitelet side of Mottaret centre leading down  from Le Hameau complex. Others are over in the Chatelet area past Plattieres Lift station near the Mont Vallon hotel.For those new to Mottaret you can always ski down to Meribel on the Truite green run in just a few minutes.
MOTTARET APARTMENTS (1750m)
REASONS TO CHOOSE THIS GREAT SATELLITE VILLAGE FOR YOUR SKI HOLIDAY
Mottaret apartments are located at a height of 1750m, 300m higher than Meribel Main Town. This means that on occasions it might rain in Meribel but snow up higher in Mottaret. Very important to remember this if you are driving up as you may need to put snow chains on as you leave Meribel town, by Chaudanne.

Most Mottaret apartments are ski in and ski out. Mottaret apartments were created in the 1970's  as part of a purpose built ski station so most were built near the pistes so you can ski out of your door in many cases.

Prices for Mottaret apartments are usually a little lower than similar ski in ski out accommodation in Meribel main town. The reason is that here there are so many. Ski in ski out apartments right by the piste in Meribel are much harder to find. Sometimes you might even need to catch the free Meribus to the slopes.

Mottaret is in the very centre of the 3 valleys ski route if you are visiting all the Trois Vallees in one day. It is only 30/40 minutes skiing to Val Thorens centre via the Plattieres gondola and the Cote Brune chairlift. Mottaret apartments on the laitelet side mean you can ski down to Plattires Gondola. Mottaret apartments on  the Chatelet side means just a short walk to the gondola. Most will have an excellent view of Mont Vallon, the highest mountain in the valley.

Skiers renting Mottaret apartments have a choice of 15 restaurants and 3 very good supermarkets. The biggest supermarket is in the Mottaret commercial centre near Mottaret Tourist Office. One is at Chatelet and the other is up in Le Hameau complex on the laitelet side.

Mottaret apartment rental can be a wise choice for the very best skiing / snow conditions at the start and very end of the season. In April the snow tends to melt a lot in the hot sunshine lower down the valley. Therefore the higher up the mountain you are the better for snow conditions.

We have and excellent choice of over 70 self catering Mottaret apartments. They come in various sizes and standards to suit any group or family. Remember the French do tend to squeeze you in a bit so prices are depending on the total square meters of the whole accommodation. All will have ski lockers and most will have a sun balcony. All are suitable equipped with kitchen, bathroom or shower room , toilet obviously. Many have French TV. Wifi is possible by satellite. You buy this at the Mottaret Tourist Office about 9 euros per day. Less if you buy for the week.

Skiing In Mottaret:

In Mottaret alone you have some superb skiing. Mont Vallon has 2 of the best red pistes in the alps, both about 5km long. In the morning Mottaret gets early sunshine in the area of Sitelle and the snow park. It is a great accommodation choice if you want some early morning skiing in the sun.
A SMALL SELECTION OF OUR SELF CATERING APARTMENTS IN MOTTARET

Mottaret Studio Apartments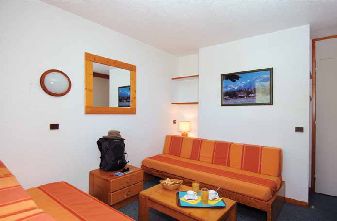 Le Hameau Studios
(For 2 – 4 Persons)
Le Hameau small studio (20m) apartments sleep 3. They have a lounge with pull out bed for 1 + a single ned. The simple kitchen has electric hot plate for cooking. There is a shower room with toilet.
Le Hameau studio apartments for 4 persons (27m).
These have a lounge divider with 4 single beds.The kitchen has hot plate, oven or microwave and dishwasher. They have a bathroom and separate toilet.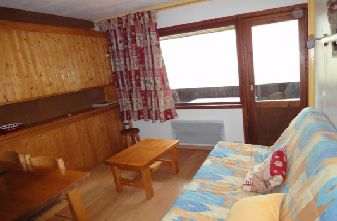 Grand Rosiere Studios
(For 2 – 4 Persons)
La Grande Rosiere N° 20 (18m) is a small studio for 2 people with double sofa bed & shower room. It has a well equipped kitchen plus washing machine, and flat screen TV. There is free wi-fi here but it is not guaranteed.The apartments has north facing balcony but with a restricted view. The apartment is right on the piste 100m above  Mottaret centre.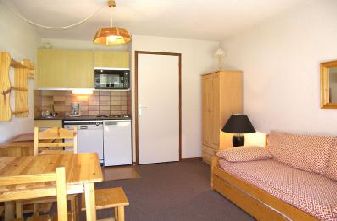 Le Blanc Studios
(For 2 – 4 Persons)
Lac Blanc Studios (21m) sleep 2 persons in 2 single beds. They have a bathroom with bath & toilet. They have well equipped kitchen, TV and balcony or terrace. Lac ski apartments are  on the piste on the laitelet side of Mottaret just below Le Hameau complex. This is  ski in ski out accommodation in Mottaret for sure.

Mottaret Apartments 1 Bedroom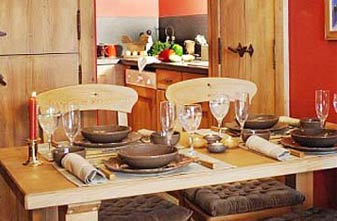 Le Crets
(1 bedroom for 4 – 6 persons)
Les Crets 1 bedroom apartments sleep 4 persons. They have 1 twin bedroom and 2 sofa beds in the lounge. Well equipped kitchen plus a bathroom. They have Bath or shower + wc. Le Crets complex is high up in the chatelet area of Mottaret, Accessed by the funicular lift by the shops and restaurants.. You can usually ski in and ski out here.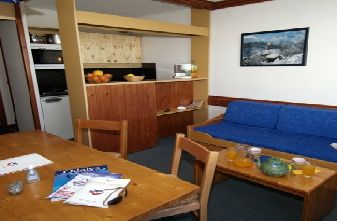 Le Hameau
(1 bedroom for 4 – 5 persons)
Le Hameau 1 bedrooms apartments (30m) are for 4/5 persons. They generally have 2 pull out single beds in the lounge and a bedroom with 3 singles. The kitchenette has fridge, electric hot plate, oven or micro wave oven/grill and dishwasher. They have bathroom, separate toilet and balcony. All Le Hameau apartments are more or less ski in ski out.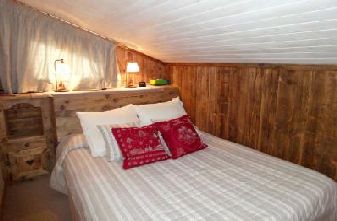 Ancolies
(1 bedroom for 4 persons)
Ancolies 1 bedroom apartments (31m) are on the Laitelet side of Mottaret about 500m from the piste. The have a double bedroom and bunk beds in an alcove. They have well equipped kitchens and bathrooms with wc. From the Laitelet side of Mottaret you can ski down to the centre ski lift stations. You walk or catch the lift up or down for shopping.

Mottaret Apartments 2 Bedrooms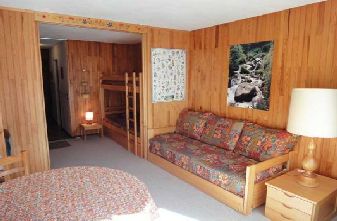 Aguille Du Fruit
(2 bedrooms for 6/7 persons)
Aquille Du Fruit (48m) is half way up towards Le Hameau. It sleeps 6/7 persons. You can usually ski on a short path from the front door to the piste. The same coming back almost.  It has triple bedroom and mezzanine with a double bed. It has well equipped kitchen plus bathroom and wc. It is a short walk to the chatelet gondola to go down to the centre or up to Le Hameau.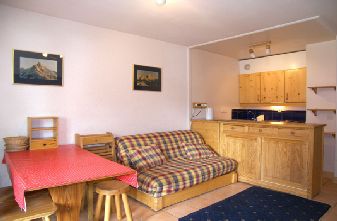 Les Erines
(2 bedrooms for 6/7 persons)
This 2 bedroom Duplex apartment (54m) is high up on Laitelet side of Mottaret near the piste. It sleeps 6/7 People on the 4th floor with a South-facing balcony. It has a quad bedroom, triple bedroom plus a single mezzanine.The kitchenette has refrigerator, dishwasher, 4 electric hobs, oven with micro-wave oven. Also a Bathroom – Shower-room – WC+ TV.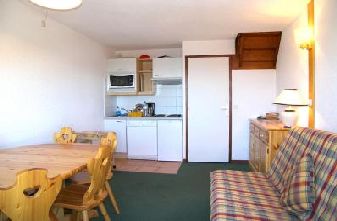 Le Blanc
(2 bedrooms for 7 persons)
Lac Blanc apartments (49m) are by the piste at the top of Mottaret, in the Hameau complex.They sleep 7 in 2 bedrooms (double & twin) plus single bunk and double sofa bed.They have well equipped kitchens and bathroom and wc. Most of the apartments have an early morning sun balcony with superb views across towards Mont Vallon mountain.

Mottaret Apartments 3 Bedrooms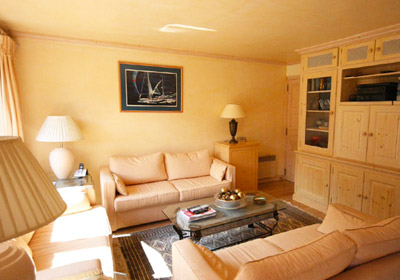 Tarantaise
(3 bedrooms for