MERIBEL SKIING FOR INTERMEDIATES – 6 DAY SKI GUIDE
6 Day Ski Guide For Intermediates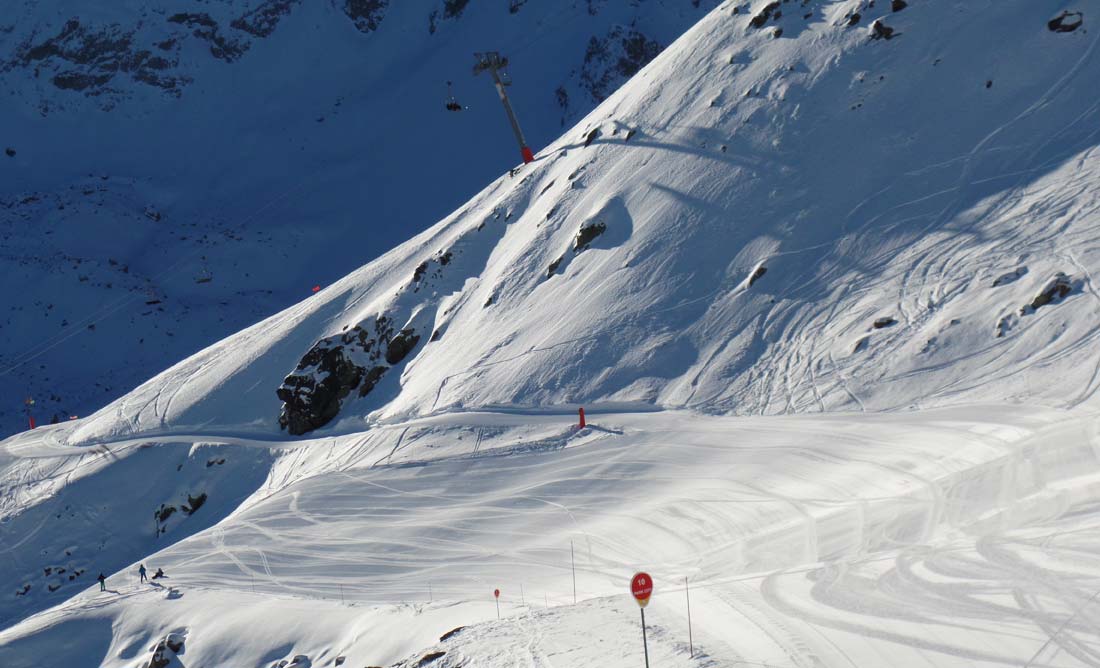 Meribel 6 Day Skiing Guide For Intermediates
Meribel Unplugged 6 Day Ski Guide By Rob Smart (copy & paste friendly)
For off piste group lessons  I highly recommend joining the ESF 5 day course. I did exactly that many years back (1986) and had some of the best powder days of my life in the years following. If you are alone and arrive to a fall of new powder take my tip and join up. If you are in a group then take a private instructor for the week. All the ski schools on Meribel Unplugged have off piste instructors for private lessons. Do make sure you always have at the very least bleepers,probes  and shovels just in case of avalanche. In heavy snow they are a constant danger.

This daily guide assumes the weather is fine and the snow is also good. Without both conditions being such then ignore this guide. Do your own thing 

and just be sure to enjoy the day. Treat yourself to  a nice long lunch!

Note: Apart from the 9am beginning all times listed are very approximate. I always advise lunch early or late. 12pm or 2pm. Never eat at 1PM if at all possible.

I must apologise. Aged 68 now I always lunch on the mountain. When you reach the old git stage it becomes one of life's real pleasures. Maybe you prefer not to? No problem. Just ski more.
Extra note: This is only a personal guide.
You don't have to follow it to the letter, especially for après ski sessions. Please deviate as much as you wish if you feel confident enough. You may also get lift queues sometimes but follow these routes and you should avoid the worse. Just make sure you enjoy every day the best you can. Today won't come around again.
Day 1: Meribel Valley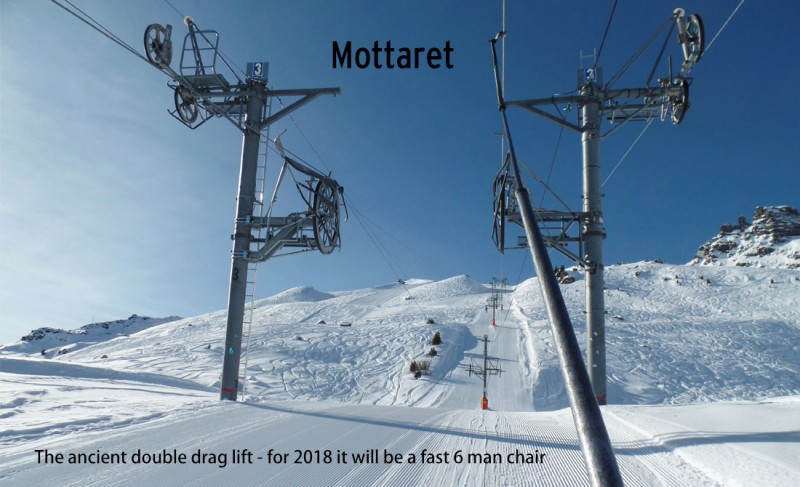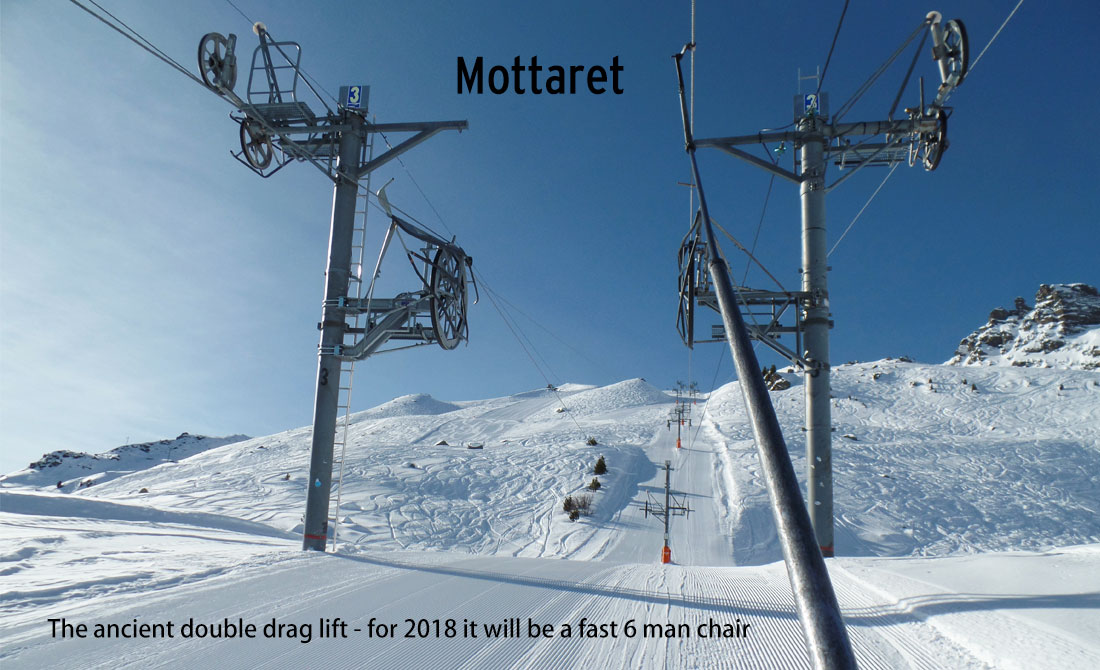 09.00

Chaudanne: Plan De L'Homme chair & ski left to Tougnete 2 Gondola.Ski 100m down Combe Tougnete, hang right on to "Dahu", keep on right side and you hit "Martre". Bear right and you arrive at Roc De Tougne 6 man chair. (new for 2017/18). Double drag lift before.
Now ski  down "Lagopede" to "Martre". At "Martre" junction turn right and follow the path keeping on the right side till the Chatelet chair.
At top of Chatelet chair ski down "Rossignol" in to the "snow park". Take the roller coasters down to the bottom then head straight to Sitelle Restaurant for a hot chocolate or coffee and the best freshly baked croissants on the mountain! Time should be nearly 10am, just as they come out of the oven. Assuming the weather is good you have just had the best hour of the day. Sunshine and perfectly groomed quiet pistes.

10.15:

Now head for Mont Vallon. Down to Mottaret centre keeping right side (sorry always busy). Take Plattieres gondola to the first station.
Ski down "Bouvreuil" to Mont Vallon gondola. Up to the top and then ski both sides. 2 of the best red runs in the 3 valleys, "Campagnol" & "Combe De Vallon". They are about 5km each. Sadly in the shade much of the day- but hence the very good snow (usually).
After the 2nd descent take "Ours" piste (not good for snowboarders) all the way back to Mottaret, then drop off to the Chatelet area for an early lunch. Three excellent value restaurants here. Le Zig Zag, Le Rastro & La Terrace. Read my reviews. You can ski right to their tables. Non skiers can also meet you here. Bon appetite.
13.00:

With everybody and his uncle now queuing for lunch you can enjoy relatively quiet pistes. So buzz up to the top of Pas Du Lac and ski down to Meribel via "Biche". You should now be in the sunshine for the rest of the afternoon.
Take a relaxing cruise all the way to the "Altiport". This is a beginner's area for both adults and children so please take it very carefully. No straight line schussing please!
At the "Altiport" head for Meribel Village on the "Lapin" piste. Careful, it breaks off to the left a short way down = "Hulotte" piste to Meribel 1600.
If you have decided to take a late 2pm lunch instead then La Terrace at Meribel Village might suit you better. La Terrace, also known as LDV is under new British management since last season. You will find very friendly service here. Try the chicken here. Freshly roasted on the spit outside.

15.00:

Take the Golf chair back, then the 8 man Altiport chair arriving above Rhodos. Drop off for the Dent De Burgin chair.
Now ski all the "blues" and "reds" in this area but stay high. You will be in sunshine all afternoon. Folie Douce also beckons for a wild party on the terrace. A must do occasion at least once, so why not make it your first day. It kicks off around 3pm and finishes at 5pm just in time for the Rond Point Bar. This is Meribel's famous venue for all the top live bands. The "Ronny" is legendary thoughout  the Alps and  also happens to be the spiritual home of toffee vodka. If you are feeling tired or you have too many toffees, jump on the free Meribus.It stops right outside.
So this should round off  a great 1st day. Enjoy.
Day 2: COURCHEVEL 1650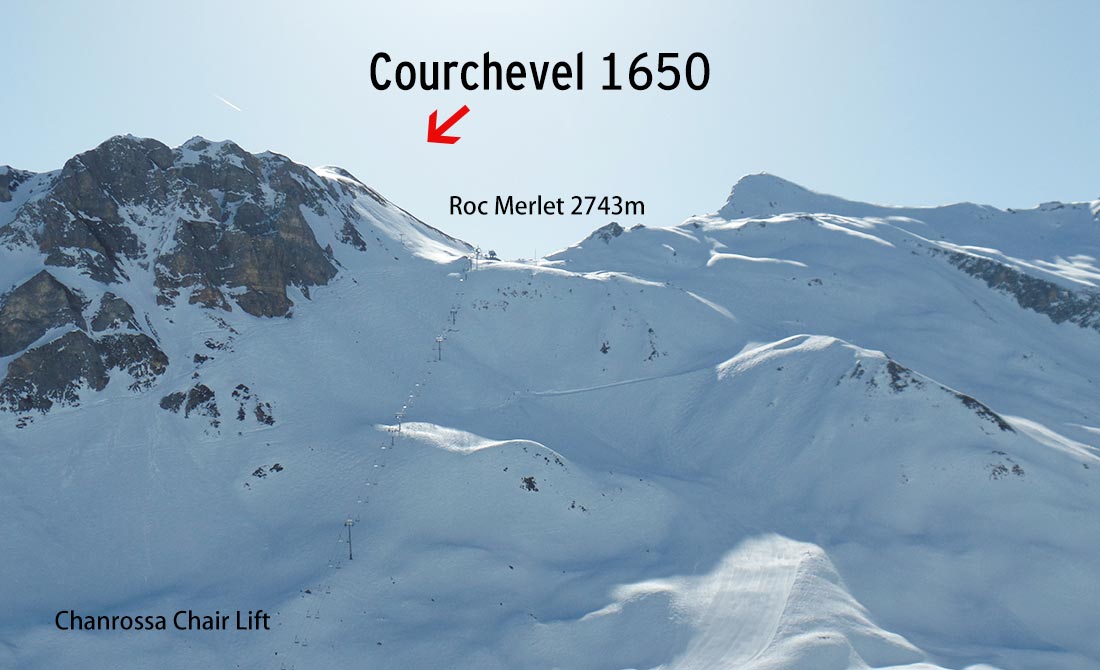 09.00:

Chaudanne: Take  Saulire express to the top.
Ski "Creux" to half way, then hang a left on to "Lac Creux".
A 100m further on or so find "Marmottes". If this has been groomed is it a super run down to Chanrossa chair. Sorry, if not groomed will be a bit testing and bumpy.
Wait for Chanrossa chair to open. (about 09.40). It is worth waiting for.

09.50 :

At top take "Roc Merlot" – "Pyramide" – "Ariondaz" for a fabulous cruise to the Bel Air restaurant.
It should be nearly 10am. Time for a hot chocolate. This is a great spot for lunch on the mountain. Be sure to reserve if you decide to eat here.
Now you have a superb choice of "reds" and "blues" in 1650. They are all good to go for except "Roc Mugnier". This one is never pleasant. In the shade even early morning. Avoid it unless you like icy pistes and moguls.

12.00:

Ski "Indians", stop and take a look at the Sioux Indian camp. Read the posters. Very interesting.
"Indians" piste joins other blues leading direct to 1650 centre.
Through the gap in the buildings by Portetta Hotel are 2 super little restaurants. Choose either for a great lunch. L'Arc En Ciel or Petite Savoyard. Both also have great reviews on Trip Advisor by the way.
14.30:

There are several ways back from 1650 to Meribel. All take a fair while so I suggest you leave about this time. if anybody is really tired they can catch a free bus from 1650 to 1850. This cuts off most of the route home. From 1850, it is just 1 gondola (Chenus) , then a short 5 minute ski towards Bouc Blanc in La Tania. After just 1 chairlift brings you back to Col Du Loze.

Route 1:

Ariondaz Gondola – Signal Chairlift – Pyramide double draglift – Roc Merlet chair.
Ski "Chanrossa" or "Jean Pachod". Neither are too extreme. "Chanrossa" will often have large moguls.
Catch Marmottes chairlift then follow the sign for Meribel "(red)". It brings you round to below Saulire summit with a choice of Mottaret or Meribel. Choose either
"Chamois" or "Biche" . Both will both lead you to the Folie Douce bar by the mid station of Saulire express.

Route 2:

Ariondaz gondola then Pte Bosse draglift. Ski "Gravelles" to the Aiguille Du Fruit chair.
Ski down "Altiport" to Suisses chair then same "red" route signposted to Meribel as from Marmottes chair previously. Here you can enjoy more skiing in the sun or head again for the Folie Douce & Rond Point parties. The end of another great day on the slopes.
Day 3: St Martin de Belleville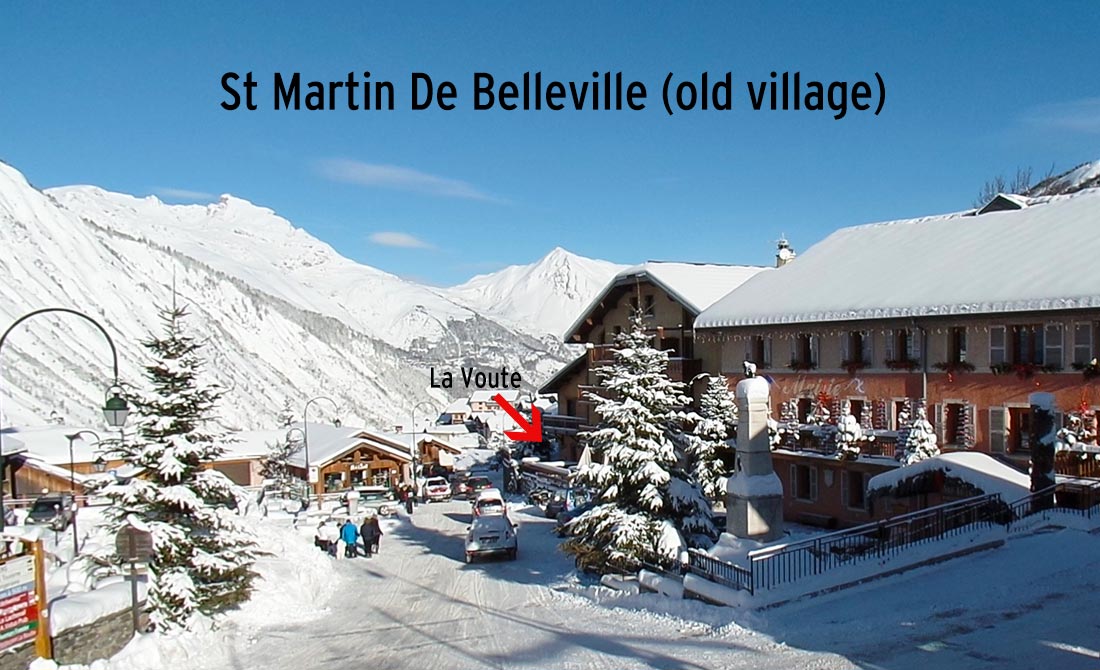 9.00:

Chaudanne. Plan De L'homme chairlift then Tougnete 2 gondola.
1st Run is "Pramint". It should be nicely groomed. Also be sure ski "Pramint" if it snows overnight. They groom it early during the night so you can often find soft fresh new powder on a smooth piste. Heaven!
Come back up on St Martin 2 Chair. Now ski "Cretes", past les Cretes restaurant (Great place for lunch by the way).Then choose "Jerusalem". Another superb run if the snow is good. It ends up again at St Martin mid station. "Jerusalem" often gets closed in early or late season due to poor snow conditions. Too much sun and no snow cannons!

10.30:

Now take an easy enjoyable  cruise all the way down to St Martin in case you fancy eating  in the old village. On route you will see an old village on your left down in the valley. This is actually St Marcel, not St Martin. When you reach a small tunnel turn sharp right immediately after  for the old village. (sometimes a bit icy here!)
Check out Montagnard and La Voute menus for lunch later. See my reviews.
Take the small beginner draglift – back up to the new section of St Martin. A pleasant stop for a coffee here is La Dahlia. Very friendly Dutch owned pub/restaurant opposite the Gondola.

11.15:

St Martin 1 Gondola & St Martin 2 Chair.
Turn right to "Gross Tougne Boulevard". At the Grand Lac restaurant take catch hold of Teppes (an old VERY steep draglift). Hang on tight. Ski "Teppes" back down again. Note: Teppes drag closes about 12.00 for lunch. Then take the Grange 6 man chair. Ski "Grand Lac"  now. This is one of the best runs in this area of the mountain with a fun fast schuss at the end.
12.00:

Now you are near to lunchtime. In this area it is very difficult to choose.  Grand Lac restaurant is superb value and right near. St Martin mid station offers 2 in a traditional style. Corbelys and Chardonbleu. St Martin old village has La Voute and Montagnard. At the top of St Martin 2 chair is Le Cretes. I love them all for different reasons so please read my restauarant reviews and choose for yourself. I promise each one is well worth a visit. Ski down Pelozet for the mid station and then continue on for the old village. A nice cruising run before lunch. If you want to eat at Chardonbleu pick up some speed and stay on the right side. Otherwise you will have a short walk.Book each restaurant in advance to avoid disappointment.They are all popular.

13.30:

Catch St Martin 2 chair to Les Cretes restaurant (starting point)
Opposite le Cretes ski both "Blaireu" and "Faon" down to mid station Tougnete. They are quite similar but both tend to have good snow in the afternoons and are not too busy.
After skiing these 2 runs head down via "Perdrix" (Mottaret), below Tougnete mid station and "Combe Laitelet" which drops on to the "Truite".
Catch Saulire Express to the top then ski down for either the Folie Douce or Rond Point.

15.00:

Time for some more skiing in the sun or après. Skiing on the Saulire Mountain almost always means sunshine. Always try to keep off the main 3 Valley through routes after 3pm. They are far too busy. That especially means Mottaret centre & Chaudanne. St Martin 2 chair also gets very busy around this time. Saulire mountain also offers the direct ski routes to Folie Douce, Rond Point, Jacks Bar and LDV. A good place to end up late afternoon.
Day 4: Les Menuires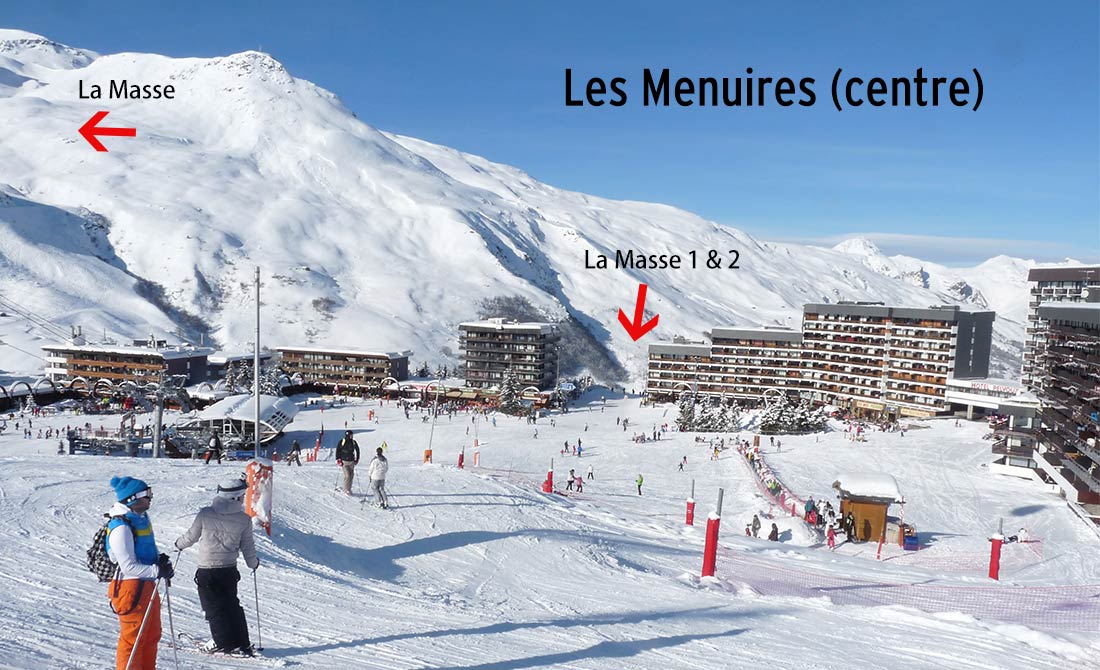 09.00:

Chaudanne: Plan D L'Homme – Tougnete 2.
"Gross Tougne" to Grange chair to 3 Marches summit.
Ski "Allamands" then take Becca chair –ski "Becca" & "Petits Creux".

10.30:

Catch Mont de La Chambre chair – Ski "David Douillet" – "Boyes".
As you approach Reberty Village Le Ferme Pub – restaurant is on the right. Great place for a coffee stop. Very friendly staff. Good inexpensive spot for lunch later too. Large sun terrace.

11.00

Take "Boyes" down to Les Menuires Centre. This place is ugly! However it has some superb skiing and great value restaurants so well worth the visit.
Ski though the gap in the buildings and hang a left down to Le Mass 1 Gondola. Drop off down to Mass 2 Gondola and up to the very top.
Choose "Fred Covili" then "Les Enverse" to the bottom.
Catch Doron Chair out and choose where to eat.
Read reviews of Le Ferme and L'Ours Blanc. Call and reserve a table beforehand.
13.30:

Roc Des 3 Marches 1 (gondola-1st class) – Roc Des 3 Marches 2 (chair).
Route 1:Ski "Mouflon". Not one of my favourites though. A bit steep in places and sometimes worn and busy but worth doing if you feel ok. Brings you down direct to Mottaret. Very busy though on the way in to the centre. Take "Truite" to Chaudanne.

Route 2:

Ski "Grand lac" then "Pelozet" to mid station St Martin 2 chair. Up to Top then "Faon" or "Blaireu" again down to Tougnete mid station.
"Perdrix" – "Combe Laitelet" – "Truite" to Chaudanne.

15.00:

It's that time again. Saulire Express – Saulire summit: Of course you catch Pas du lac, in Mottaret but this is normally VERY busy. Ski Saulire mountain "reds" and "blues" staying off the main routes to Mottaret and Chaudanne. The Folie Douce , Rond Point or Jacks Bar at Chaudanne are as usual the apres ski spots to head for. The Folie Douce (3pm -5 ) does not change much day to day re the performance. The Rond Point has different bands each day (5pm – 7) so check out my "What' On Guide". Jacks Bar is the same with a different group each day 5pm till 7.