MERIBEL SKIING GUIDE FOR ADVANCED SKIERS
6 Day Skiing Guide For Advanced Skiers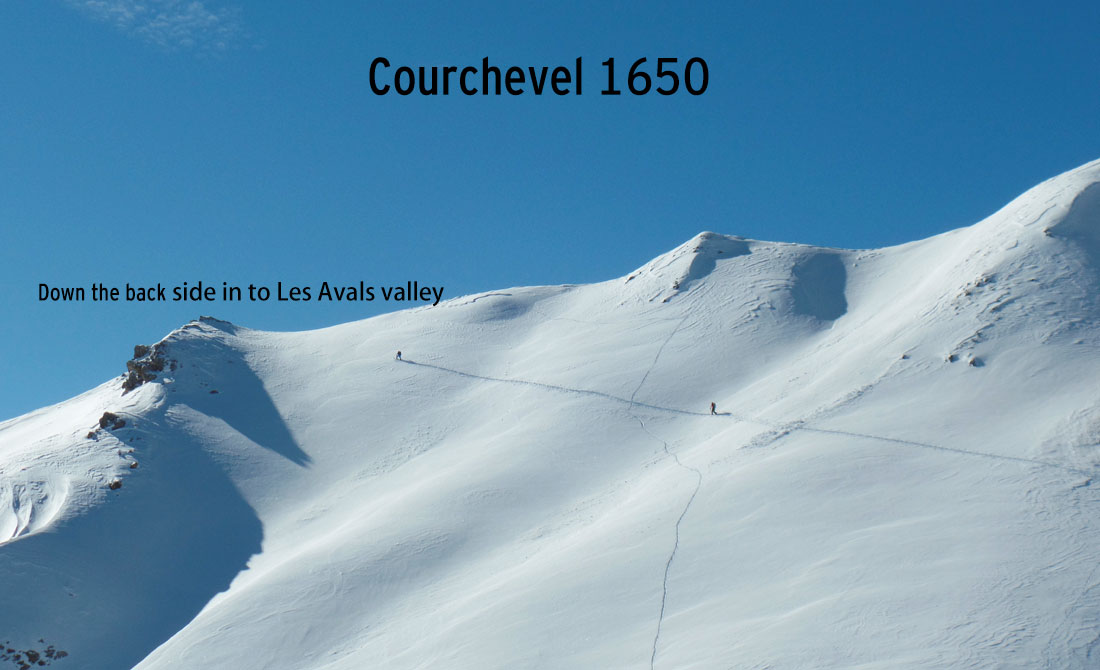 Advance Tips:
All the information on these pages is free for private use and has been written by yours truly. I have personally skied here for 20 + years so trust me; you really have chosen one of the very best resorts in the world for intermediates/advanced skiers. The team are mainly advanced skiers now (although we have boarded too), so although we try, specific snowboarding tips are slightly limited. It might be a good idea to also read the beginner section to warm up and maybe the intermediate section which covers many of the pisted red runs in the 3 valleys.
Definitely buy a 3-valley pass. It's worth every cent. You have an unbelievable area of over 600km (375 miles +) of pisted runs to explore without ever taking your skis off. Between us we have also probably skied every single black run and off piste route in all 3 valleys and can assure you that there is certainly enough advanced skiing here for all but the most experienced extreme skiers. Just hire a mountain guide/instructor or join the ESF off piste ski group and discover all the goodies for yourself. On piste you can ski every day, all day in sunshine (weather permitting of course). In a one week holiday you need never ski the same run twice. If it's your first visit to Meribel it might be a good idea to e mail the Meribel tourist office (www.meribel.com) or the Meribel lift company, at (www.meribelalpina.com) and get them to immediately send you a hard copy of the Meribel piste map. This article will make far more sense to you when combined with the map. You may then decide to print out these pages and bring them with you. Feel free. Have a good read at breakfast in your chalet or apartment, make some brief notes then head off for a great day on or off the slopes. I promise you that will find all this information very useful although for reasons of avalanche safety I will not describe most off our piste routes. These you should do only with a qualified instructor or mountain guide. However if you do feel confident enough to go off piste without a guide then your best bet is to buy "les 3 vallees hors piste". This is an excellent off piste book written by two local mountain guides. You will find it in the local book stores in Meribel.
Heli skiing in Italy and private groups off piste is possible with all of the Meribel ski schools.
Meribel & Mottaret.
We have 5 blacks in the Meribel valley and the best of these are La Face which was the women's Olympic downhill course in 1992 and Bartavelle, at the top of Roc de Tougne double drag lift in Mottaret. See picture above. Bartavelle is on the left going up the drag. It is sometimes groomed, but usually has giant moguls on it.
La Face:
Take the Roc de Fer chair from Chaudanne then the Olympic chair to the peak, also called Roc de Fer (2294m).
La Face is a very easy black early morning if groomed but it gets worn, bumpy and icy later. From this run you also can take the off piste itinerary to either Raffort or ski down to Les Allues village snow permitting. The Olympe gondola brings you back from both to Chaudanne.
Ecuriel: 
This is a black that runs from the top of Tougnète down to almost mid station. This is a fabulous run in new powder at 9. 20am as it never gets groomed.
Les Bosses:
The same applies to the "Les Bosses" black run directly under the Plan de L'Homme chair lift. This 2nd one is worth getting out of bed for if we have had heavy snow overnight. Fresh snowfalls means the top lifts are closed till about 11am but Plan de L'Homme chair usually opens as usual. If you doubt this just ask Dion Taylor, Ex MD of Snow and Rock. He was spotted making the first powder tracks at exactly 9.20am directly under the chair in a meter of fresh snow some years ago in April. (During the British Land championships). Later in the day – – Les Bosses develops in to a major mogul field. ("Bosses" is French for "bumps by the way ")
Bartavelle:
Take the Combes chair out of Mottaret then the Roc de Tougne double drag lift. (see photo).This is one of the best mogul fields in the 3 valleys and was the venue for the famous "Cocktail Shakers" a few years ago. This was a bumps competition open to all and the highlight each year was a "Naked shaker" when bids were offered for a chalet girl to ski/board the course without a stitch on. Ski Cocktail ski school went out of business and sadly the "Naked Shaker" died with them. (But the memory lingers on – Jill Dance are you reading this!). Just too either side of the drag are also enjoyable powder possibilities after a new snow fall. However as is often the case rocks linger under so make sure we have had at least a meter or more of snow on top.
The other blacks in the Meribel valley are Tetras by the Altiport and Grand Rosiere and Sanglier above Mottaret. All three get the afternoon sun so the new snow does not last long. However after a fresh dump they are wonderful in the mornings. Either side of all of 3 pistes also provides excellent spring snow skiing during March and April.
If you are lucky enough to have a really big fall of snow all the way down to the valley floor then the itinerary through the forest to Brides Les Bains is extremely interesting. This run starts at the Altiport area and is now marked. I was lucky enough to do it back in "Jan 87″ in more than a meter of fresh powder with Frederick St Guilhem of the ESF ski discovery group. In those days "Ski Discovery" was called "Rally Savage". They changed the name as it put quite a few of us Brits from joining up! It was quite an incredible experience right through the forest! Back then, pre gondola, it also meant an expensive taxi back up the mountain. (To be paid for by the clients (2 of us) by the way – as I found out to my cost!)
In Brides les Bains try lunch at les Cerisiers, just by the base of the Olympe gondola. Excellent quality.
In Mottaret use the Zig Zag, Le Rastro or La Terrace at Chatelet area. All 3 are excellent value with super food, and very friendly, personal service. Well worth a stroll across the piste.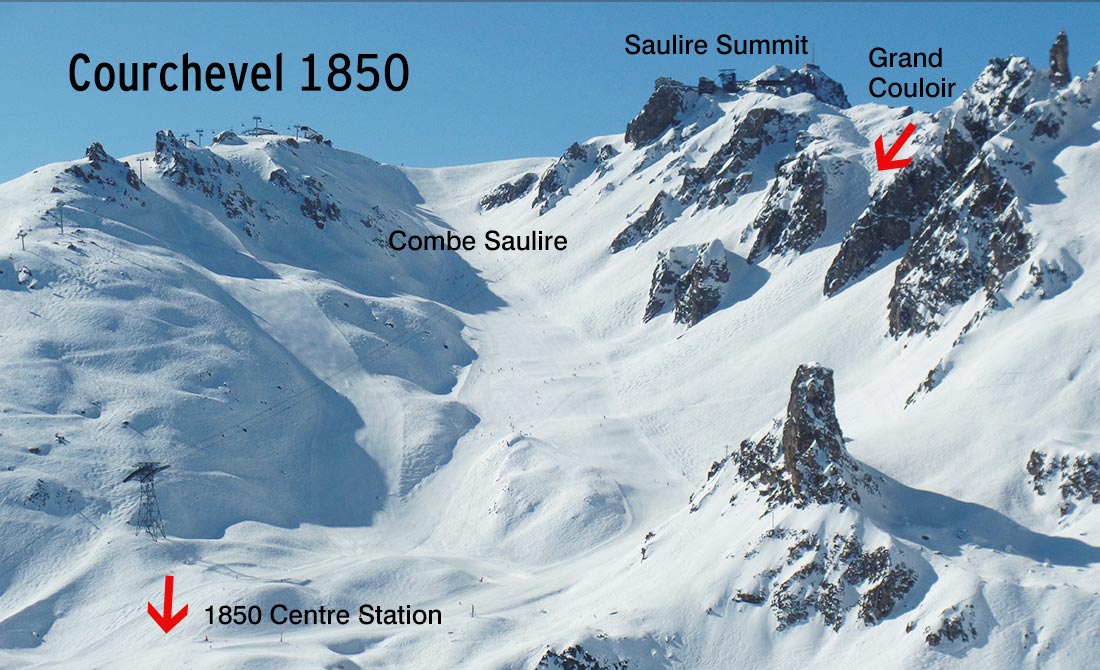 Courchevel: 1850:
Home of the famous couloirs. These are hairy and scene of a spectacular freeride competition every March. Catch the Courchevel Saulire Cable car, turn right as you get out and take your choice. The Grand Couloir is the easiest as it is relatively wide. Fabulous in new fresh powder but expect some giant moguls later. To ski the last Couloir in the bunch which faces down to Verdons you will need climbing gear to get in to it. Unless you are extremely proficient, club together and take a guide for the day. I did it in 1m of new powder with the ESF ski discovery group back in the 90's. Fantastic!
Here is an excellent web page by Dennis Somerville with a description of the couloirs and how to get in to them.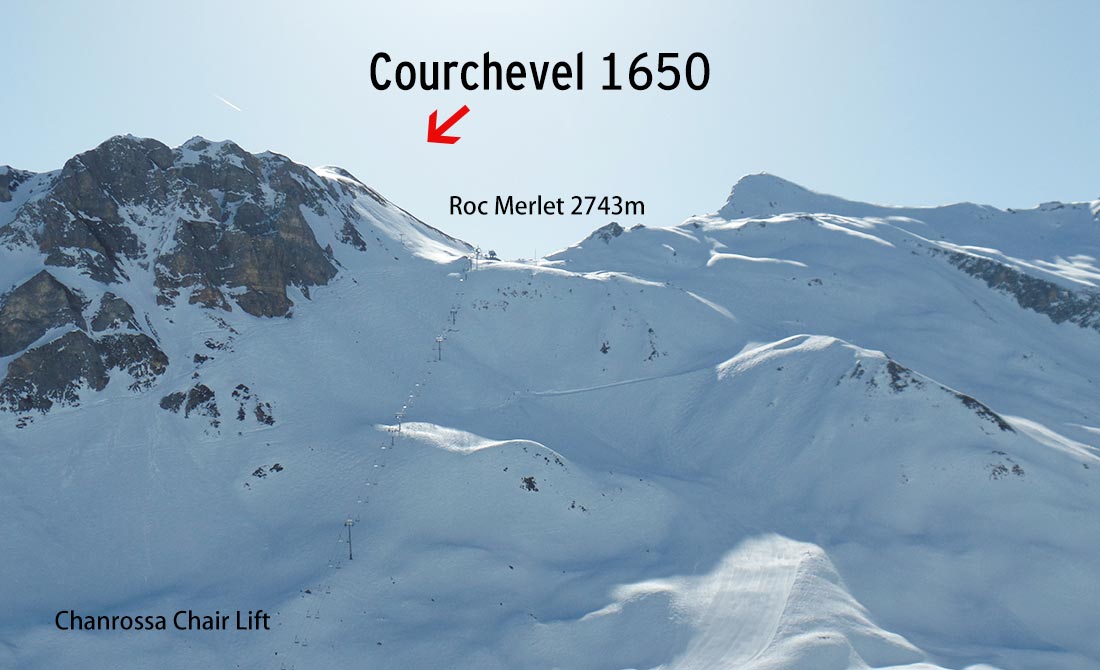 Suisses & Chanrossa are two excellent mogul fields. Chanrossa (see photo) develops moguls under the chair. It is also surrounded by some excellent wide off piste areas. As usual all serious off piste should really only be undertaken with a qualified mountain guide or instructor. As you go up the Chanrossa chair the area also looking to your farright is superb BUT can be VERY dangerous for avalanches. People have died here! Don't even think of it without an ABS.  If you do ski here make sure, as usual, that nobody is traversing above you. I have been involved in 3 non-fatal but none the less very scary avalanches. They are definitely not fun!
Lunch:
Courchevel 1850 can be very expensive so be careful over here. Pilatus is an upmarket restaurant by the Altiport but far more reasonable than some. Soucoup is another top class restaurant if you have plenty of spare cash. Chenus at top of Chenus bubble or Coqs chair is more within the average budget. All have great sun terraces. Nearer to Meribel is Le Roc Tania, just before you hit the Meribel Valley at top of Col du Loze. Nice food, another great sun terrace, with a DJ on sunny afternoons.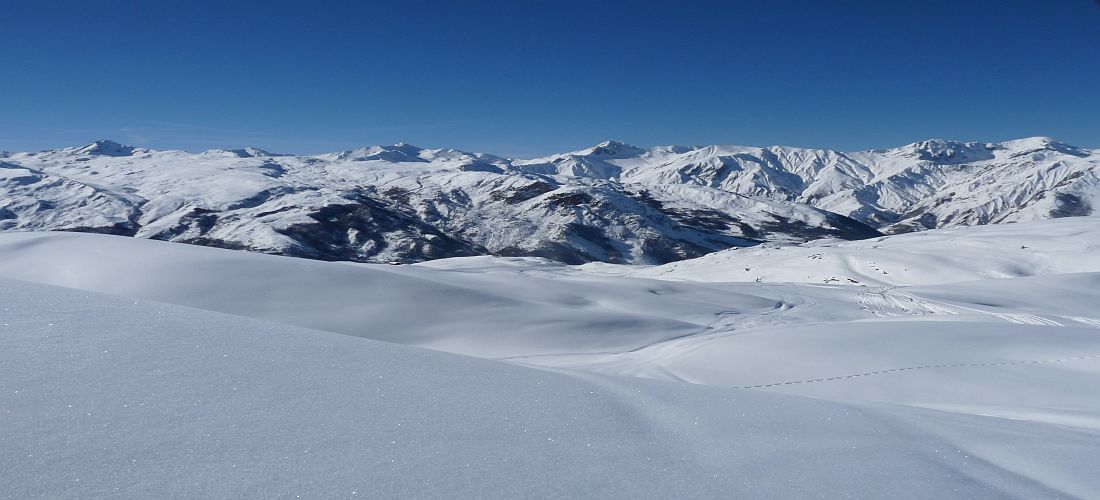 St Martin de Belleville.
This is a wonderful off piste run in new snow. Rolling hills.  (see photo above) It needs heavy cover at the botom section due to stones and rock underfoot. It is relatively easy but beware: There are a few cliff tops on the route. NEVER ski over a ridge unless you know what is beyond it. It takes about 1 hour and you end up just above the old village. Again, it is best with a guide or instructor first time. A great choice of restaurants here.
Beranger is another route on this side of the mountain. It also takes about 1 hour.  However time it for lunch then Stephan from La Voute will pick you up. Book him before leaving as there is a poor mobile signal at the bottom.
Courchevel –  Le Praz 1300.
On the other side of the 3 valleys is "Jockeys" is a testing black run down to La Praz. A fabulous run through the forest when the snow is good. Jean Blanc is another steep black route down through the trees. These two are especially good both during and after heavy snowfalls. Note: In early or late season they can both be very short on the white stuff lower down. Check the snow conditions first for both.
Lunch:
Excellent and classy restaurant opposite the lift station is La Table De Mon Grand-Père. Bistro Le Praz also has some good write ups on trip Advisor.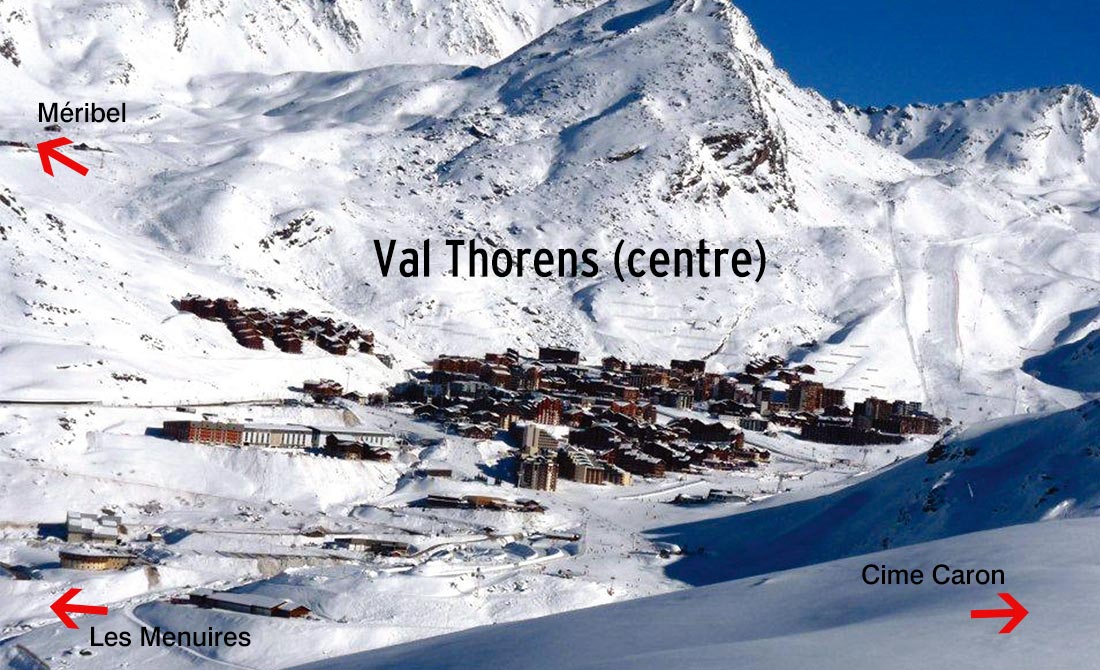 Val Thorens:
Val Thorens is fantastic for advanced skiers. But see also the intermediate section for routes.
Take the giant Cime de Caron cable car for the Combe de Caron. This is a black run that always has excellent snow. It's a long piste right down to the base of the cable car. There is also a very interesting itinerary over here called Lac