SKI TIPS FOR  MERIBEL BEGINNERS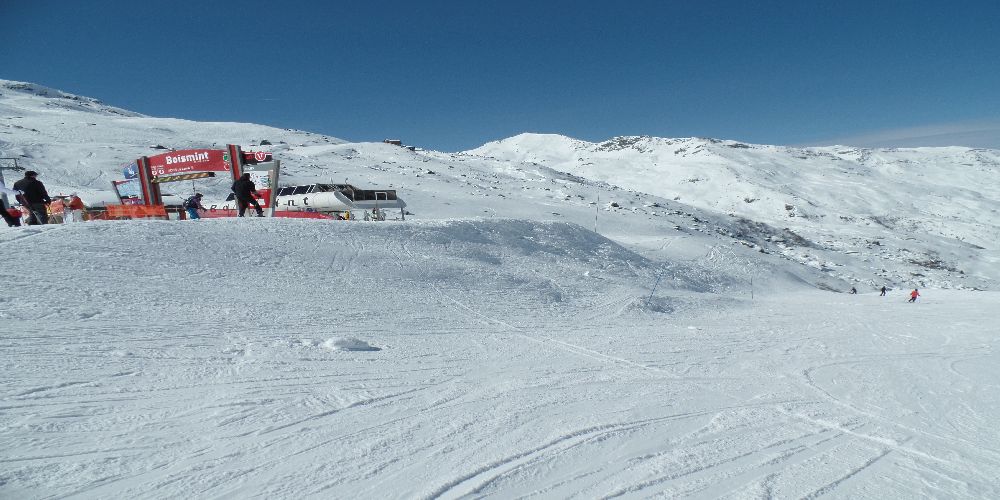 Meribel Ski Tips For Beginners
(Printer and copy Friendly- just copy and paste on to a word document)
Meribel Skiing & Snowboarding Guide For Beginners,
Beginners:Skiers & Snowboarders.
Do some ski preparation exercises for at least 6 – 8 weeks before your holiday.
Maybe lose some weight? You sure are not going to lose it in Meribel, with all that chalet food, tempting restaurants and French wine.
Get fitted correctly for boots and the latest easy turning short skis. Ski boots should NOT under any circumstances be cold or uncomfortable. (If they are then take them back immediately !!! before you do any damage to your shins or toes or ankles ). However they should be a firm, tight fit.
In cold weather make sure you have the best quality ski socks and eat a good hot breakfast.
Wear warm clothing all over including a full ski hat / helmet  and high quality ski mittens (much warmer than gloves).
In hot sunny weather wear good quality large lenses sunglasses (to totally keep your eyes out of direct sunlight) and carry strong sun cream (organic is best – many regular sun creams are thought to be carcagenic!).Re – apply regularly.
Don't forget the ears if you have short hair. Mountain sun, combined with the reflection from the snow, is far stronger than normal so please be very careful.
Now, if you are reading this in the comfort of your living room somewhere in the UK then here's a good idea. E mail the Meribel Tourist office at www.meribel.com or the Meribel Lift Company at www.meribel-alpina.com asking for a few hard copies of the 3 valley piste map. Read this article later in the company of the piste map and it should then all make sense to you. Good luck.
Ski Tips 1st & 2nd day.
Important advice: If you feel you want to follow all the tips here then maybe pay the extra 50e or so and purchase the 3 valleys lift pass. It is cheaper than 2 extensions.
First join a ski school. Morning lessons means the best snow. Afternoons are usually cheaper.
Book your skiing lessons in advance. If you have afternoon ski lessons  then practice early mornings. These ski tips are for your free time outside of ski lessons, which are normally only 2 hours each.
Note: Your first skiing holiday could be the best vacation you have ever had or alternatively your worst nightmare.
Do not let your spouse teach you unless you are looking for a certain divorce! Ski instructors spend about £5-10000 pounds qualifying over several years and know how, what and where to teach.
There are more than 10 English-speaking ski schools in Meribel
They employ many British ski instructors, and countless French ones with charmingly good English.
Many people also make new lifelong friends in ski class so we thoroughly recommend them.
Budget skiers/boarders: The slow draglift at Meribel Altiport is free and ideal for your first arrival day skiing or snowboarding practice. I advise a few sessions on a snowdrome in the uk to get a feel for the snow.
Catch the free Meribel bus to the Altiport ski area. It takes about 15 minutes from the town centre.
Stay on the

Altiport area

for the first 2 days of private practice outside ski lessons. If feeling confident maybe try

Geai,

just above the green area.
Day 1
I would get the Rhodos bubble down.
Day 2
You might manage to ski down from Rhodos to Chaudanne or at least to the Rond Point. If nervous you can use the Foret rope pull at the Altiport and ski the easy 

Foret

piste back to Rond Point.You can then have a nice cold beer on the sun terrace  and catch the free Meribus home.
DAy 3 : Courchevel 1850 
Important note: If you have a Meribel only pass then a 3 valley lift pass extension is needed.
This, the highest and most famous resort of the Courchevel valley is very chic, very expensive and full of very rich ladies wearing real fur coats and often carrying white poodles.
In January it is usually also crowded with Russians carrying loads of money. So be careful where you stop for even a coffee! Check prices first. However it is still the entry point for some of the best skiing & riding in all 3 valleys. 1850 (verdons area) can be SUPERB for beginners.
Outward Route 1.
After ski lessons finish take Saulire Express (Meribel) to the top of Saulire. Pas Du Lac is too low. Means walking uphill.
Some great views up here. Relax. Take some photos.
Jump straight in to the giant Saulire cable car. (holds about 160). It whisks you down to Verdons area.
On the way down you will see the famous "Courchevel couloirs" on your left. Maybe in about 5 -10 years time you might ski them yourselves!
At Verdons you have a very easy wide

green

run of the same name all the way to 1850 centre. Beginners love this piste.
Apart from Courchevel 1650 this is the best practice area for beginners in all 3 valleys. It is my guess you will love it here, hence my advice to buy the 3 valley pass so you can come over often.
Outward Route 2
Take Rhodos bubble from Chaudanne to the 2nd stage
Ski down to the Loze chairlift located at the end of the  "Altiport Blanchot" run.
At the top of Loze chairlift follow the easy "Lac Bleue" down to Courchevel 1850 centre.
To ski in this area use the Verdons bubble up to the base of the Saulire cable car.
Courchevel 1850 resembles Euston station in the rush hour so make sure you get in the right lift queue.
You can also take the Chenus bubble and ski any of the easy 3 "blue" pistes that bring you back to 1850 centre.
Lunch In Courchevel 1850: (NOT cheap )
For an extremely upmarket and much more expensive lunch, reserve a table at the excellent Soucoup restaurant at the top of the Plantry chairlift. Excellent food, also superb sun terrace, plus a beautiful interior with log fire for bad weather.
Another excellent place for an mid – upmarket lunch is Le Pilatus, next to the Courchevel Altiport. Watch the rich and famous arrive in their helicopters.Very friendly management here & renowned for its Lemon Pie dessert !
Homeward skiing for Meribel & Mottaret Route 1:
This route especially applies to those who are a bit tired.
Catch the giant Saulire Cable car again.
Take Saulire Express (For Meribel) or Pas du Lac (For Mottaret) bubbles..
I don't recommend beginners skiing down in to Mottaret. The last section of Aigle is quite steep, usually very busy and often well worn or icy. It might just ruin a good day.
The same goes for the runs down to Chaudanne late in the day. Busy and often icy. Relax on the gondola instead.
Homeward bound for Meribel Route 2:
An alternative interesting route home is to catch Chenus bubble from 1850 and ski down to Dou Les Lanches chair via the "Arolles" piste. This is for very confident beginners only.
This chairlift brings you to the top of Col de la Loze from where it is an easy run down to Meribel via

"Boulevard De La Loze"

.
Be careful as in heavy new snow this route often gets closed and do not be tempted go under the rope if it is. This ski route is very susceptible to sudden avalanche and can be EXTREMELY dangerous. If heavy snow HAS fallen then be wise and stay in Meribel Valley.
The boulevard opens out to a wide choice of blue pistes all leading down to Chaudanne. "Geai" is probably the easiest.
The other blue run down to the Altiport is "Pic Noir"  but really should be a red and in fact was until a few years ago.
Do not take this run unless the "

B

oulevard De La Loze"  is closed or you are very confident. It gets VERY worn and icy later in the day and is quite steep in places.
Missed lift connection?
If by any chance you miss the last lift you can either spend time in 1850 or get the free Courchevel ski bus to La Tania.
Pop in to the ski lodge pub. You might hitch a lift or get a cheap taxi to Meribel Village.
From the Meribel Village you can catch the free Meribus back to Meribel centre, just in time for dinner if you're lucky.
There is a bus every day from Courchevel to Meribel at about 18.00. Check in the Courchevel tourist office at 1850 centre.
Day 4  Tougnete Mountain.
Chaudanne: Legends 6 man  chairlift – then ski left for the Tougnete 2 chairlift
Ski past Les Cretes restaurant on "Cretes" till you reach

"

Choucas".

 
"Choucas" is  a very popular run for 1st week skiers and you should do it many times. It is good practice and now has the Cherferie chairlift in place of the old long drag lift.
At the botton of "Choucas" you can also take the very slow beginner Caves draglift  back up to the top of Legends chair , then ski to Tougnete 2 and do it all over.
For the final run home take

"

Perdrix"

 at Tougnete 1 Gondola summit, then "Combe Laitelet" to

"

Truite"

 back to Chaudanne centre.
LAST DAY WITHOUT SKI SCHOOL = COURCHEVEL 1650 = VERY CONFIDENT BEGINNERS ONLY
This is a long WHOLE day out but only for those of you that have made REALLY  good progress and have no more ski lesson.
Courchevel 1650 is a great place for practice and not so busy as either 1850 or Meribel.
On this route today it is VERY important to get the 9am lift.
The first run of the day is actually a red but early morning it is perfectly groomed, not busy and not too difficult. It catches the early sun too so enjoy my favourite run of the day.
9AM: Take Saulire express 1 & 2. Be the first. Arrive at 8.45 for departure at 9am sharp.
At the summit ski off to the right. At the restaurant go left following the pathway down and then round to the right , ending up at the beginning of

"

Creux"

.

(See the top picture)
If you are first in the morning this is one of the best runs in all 3 valleys. Wide and always perfectly groomed. For a red run it is quite easy at 9.15 in the morning with good snow.
Go all the way to the bottom arriving at Chanrossa chair. You will lose the sun ¾ way down and you must wait 10-15 minutes for Chanrossa to open. Be patient . It is worth it.
At the top of Chanrossa chair you reach

"

Roc Merlet"

2734m. Here you will find another well groomed red piste of the same name. It is very short and you will make first tracks normally so not difficult.
It leads on to "Pyramide" , then "Ariondaz" . Now enjoy a beautiful relaxing run all the way down to Bel Air restaurant.
Time should be about 10am. Just right for a coffee or hot chocolate on the Bel Air terrace. This is a fabulous place for lunch. If you fancy eating here be sure to reserve. I suggest 12pm for lunch in 1650. It's a long way back later.
After the break ski down to the start of the "Indians" run, near the base of the Signal chair.
At the end of Indians it joins "Marquis"  and you will arrive Courchevel 1650 centre. Just through the gap by Portella Hotel are is a  great little restaurant for lunch. Petite Savoyard. Read my review.
Now take the Ariondaz gondola  back up. You have now a superb choice of "blues" to explore. Personally I would recommend going right back to where you started at top of "Pyramide" and staying on the "blues". The

reds

can get worn and icy later in the day.

("Especially Roc Mugnier")

  This is one to avoid!
Suggested Return Route:
The return to Meribel takes 1 hour or more so leave plenty of time.
If you are tired you can always catch the free Courchevel ski bus from 1650 to 1850 centre.
Otherwise take Pte Boss Draglift to "Gravelles" piste & down to Aguille du Fruit chairlift.
From the top of the chair ski down to 1850 centre again.Easy blue run.
At 1850 take Chenus gondola. Ski "Arolles" down to Dou Les Lanches chair in the La Tania valley. This chairlift brings you back up to Col De La Loze.
From here is it the easy run back on the "Boulevard De La Loze" to familiar territory above the "Altiport" again. Ready for the Folie Deuce or the Rond Point apres ski sessions.
A long day but hopefully a good one.
For any extra advice for beginners feel free to mail me.
Click edit button to change this text.