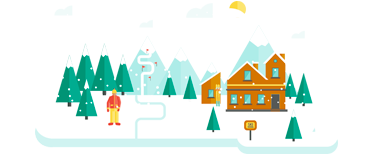 The top 5 ski runs in Meribel
• Lucky enough to be spending your ski holiday in Méribel?
• Nestled in the heart of the Three Valleys, Méribel is known as one of the best resorts in the Alps, and it's easy to see why.
• Its great reputation is largely due to its range of varied pistes, which offer something for every level of skier.
• Skiing in Méribel is an exhilarating experience! But, which slopes should you be most excited about?
• We're here to help. Here are the top 5 ski runs in Méribel.
Combe de Vallon
• This red run slopes down Mont Vallon and can boast some incredible views.
• It's a tricky task that will test your abilities, with no alternative piste to swerve off to during the descent. Also, it's one of the longest runs in the valley. Once you're off, you're committed!
• Starting at Méribel's highest skiing point, this run is mostly north-facing, therefore the snow quality is excellent.
• The steep start coupled with the reliable snowfall makes this run a definite must-try for all powder-lovers, so be sure not to miss out!
Blanchot
• Looking for something a little more laidback? Blanchot may be more fitting for you.
• This run is a gentle experience and one of the preferred choices when it comes to beginner skiing.
• Surrounded by some stunning scenery, the forgiving gradient gives you time to truly take in what's around you.
• Should you want to make things a little more exciting, you can always venture off-piste and wind down through the trees.
• Blanchot is the perfect pick for families with young children and beginners who aren't used to the slopes.
The Couloir Tournier
• Adrenaline junkies listen up! The Couloir Tournier is one of Méribel's toughest pistes.
• This black run is not for the faint-hearted, as it's the steepest run in the valley. But, this makes it is a great choice for those looking for a challenge!
• A word of warning: any skier who attempts this run should be sure they're committed to the task. Once you've begun – there are no other pistes to escape to!
Roc de Fer
• Never underestimate blue slopes!
• From Roc de Fer, you can expect family-friendly terrain that's perfect for effortless exploration. What's not to like?
• It might not have much to offer the thrill-seekers, but winding down Roc de Fer is an exciting experience for every level of skier.
Pic Bleu
• Looking for stunning Alpine views? We've found the piste for you!
• Pic Bleu is a gentle, tree-lined slope that's home to some breath-taking views. Thanks to the easy terrain, skiers have a chance to enjoy this scenery, and maybe even take a photo!
• It might not be the most challenging slope on this list, but that doesn't make it any less enjoyable! Who said blue pistes were boring?
• If you're tempted to try out some of these amazing slopes, make sure you book your accommodation well in advance. Meribel Unplugged has a superb selection of catered chalets and self catered accommodation of all sizes.