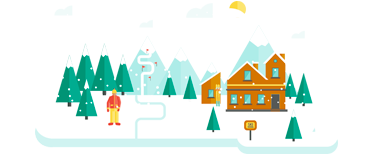 Meribel Blogs
♦ I am known as the Meribel Mole and have been blogging about Meribel and its snow conditions for 15 years now. I am going to update this new web site with the archives of all my old Meribel blogs.
♦ This means you will be able to view all the Mole's snow reports for past 10 years.
I normally do a new ski blog for Meribel each Thursday in the season so that new arrivals at the weekend will know the road conditions, piste conditions, and off piste avalanche danger. I also do daily tweets so please follow me on twitter. Join up on the home page.
♦ My Meribel blogs will also give an update on any special events going on in and around Meribel over the coming week.
♦ When I look back at all of my old blogs I see that the snow conditions vary so much that it is hard to see a regular pattern. However, recent years in all three valleys have seen good very early snowfalls (with the exception of last year and this year!). April seems aways to be versatile and extreme. Either really great snow and sunshine or sometimes miserable rain and clouds. Depends on temperatures whether we get new snow or rain. Always worth keeping an eye ope though.

Mole Blog – General Season Snow Report
♦ December Blogs: Meribel in December can be marvellous. Heavy snow early December means empty slopes,very cold temperatures and fabulous skiing. However It might be worth booking your ski holiday last minute. We have had a few dodgy starts in past years. Normally by Xmas or New Year however the snow can usually be relied upon. Also Meribel has 100's of snow cannons working non-stop throughout December.
♦ January Blogs: Generally is a reliable month for excellent snow conditions. It is normally very cold but quite often sunny. I love skiing in January. It is my favourite month of the season.Also ski holidays are much cheaper at this time. If you can get away then choose January after New Year is over.
♦ February Blogs: Is almost guaranteed good snow but Meribel is very busy from around the 7th onwards. Therefore the pistes get very worn by the afternoon. It's not quite so cold as a rule with a fair amount of blue skies and sunshine. Ski holidays are often very expensive this month.
♦ March Blogs: Usually sunny and can be very hot in the afternoons. Snow is usually excellent in the mornings but in late March it can start to get soft and slushy after lunch. Ok for snowboarders though. All in all a great month for ski / snowboarding and sun combined.
♦ April Blogs: Snow conditions are sometimes the best of the whole season with really quiet slopes. But April can also bring rain below the mid stations. My advice for April is to book last minute. Just keep a close eye on my Mole report weekly. It continues right up to the end of the season, when the real moles start to pop their heads up.
MERIBEL BLOGS 2017 / 18
THE NEW MERIBEL SKI SEASON BEGAN SATURDAY 9TH DECEMBER 2017.
THE LATEST  MERIBEL SNOW REPORT & WEATHER
18/1/18.
A mixed bag again weeks. Snow, wind, white outs, with some fab days in between. The forecast for Meribel  is much of the same over the new few days. More snow, some stormy weather and snow down to the valley floor. Driving this weekend could be a bit dodgy. make sure you have snow chains.
11/1/18
THE SNOW KEEPS COMING
ANOTHER MIXED WEEK OF WEATHER
Well.sorry for the same old report…! Loads of snow this week and more coming !!
High winds during the week again, heavy falls of snow with the odd break of sunshine.
Off piste is heavy and still dangerous but most lifts and the links to 3 Valleys are now open again.
Pistes are in absolutely excellent condiition as would be expected with all the snow we have had. Maybe the heaviest fall in 30 years so far.
Driving this weekend should be ok with sunshine forecast.
Next week however sees even more snow coming !! Bring powder ribbons so you don't lose your skis!
Don't even think of off piste without a guide/instructor. Far too dangerous.
January is now looking busy due to excellent snow but still some bargains available.
E mail for details.
For those of you booked for February or March..don't worry..we have enough snow now for the whole season and if temperatures stay cold at night then spring snow will be the best this year for many years.
4/1/18.
THE HIGH WINDS AND HEAVY SNOW CLOSED MOST LIFTS
It was too dangerous to open many lifts yesterday so very limited skiing. Blizzard conditions. A real old fashioned winter here !
Last night saw about another 40cm of new snow in Mottaret but turned to rain in the valley this morning so now very heavy and wet. I have lost count of the total snow up top ! Must be at least 2m plus for sure.
My old instructor informs me that the good news is that (looking ahead) on the mountain the snow gets really compacted with the rain,then freezes, covers the rocks with a hard solid base and then provides excellent preparation for spring snow conditions !! Great news for any of you planning a March or April trip.
So back to now: Saturday sees a break in the bad weather so should be ok for driving but be careful of ice on the roads coming up from Moutiers. Same of course going down ! Be careful even when walking through town on ice. Sometimes more dangerous than skiing!
NEXT WEEK SKIING:
It looks like the temperatures should get colder again next week so more snow in the early part of the week. So long as it does stay cold then it could be a great week for both on and off piste. However off piste today is 5 out of 5 danger !!!! VERY RARE !! I cannot remember the last time it was this high !
So PLEASE do not mess around off piste without a qualified guide or instructor. If you do drop off piste on to lower gradient slopes then keep an eye out for anyone above you too ! They could set off the avalanche that catches YOU ! The snow pack is SO deep , wet and dangerous right now. Take care.
So..after the nightmare travel last weekend this one should run fairly smoothly in and out of Meribel with luck.
2/1/18.
SERIOUS STORM WARNING FROM VAL THORENS TOURIST OFFICE
Just a short one. There is a massive storm heading in to the 3 valleys tonight. VT expects up to 2.5m of snow over the next 48 hours. That means heavy snow or rain throughout the 3 Valleys including Meribel. Also very high winds.
Some 3 valley links will be closed and also the links at night by road toVal Thorens are being closed due to avalanch risk !
In VT tourists and locals are being warned to stay at home and do not drive at all. In Meribel being lower it should not be quite so bad but still a good idea not to venture out too far !!
An update after the storm has passed on Thursday hopefully..and hopefully have left loads more snow for us next week.
28/12/17.
SNOW JUST KEEPS COMING !!
Hate to keep boring you with great snow reports but sorry nothing else to say !! It just keeps coming..!!
I have never known a better start to the season..or a better pre Xmas week. This week has seen some poor weather..albeit with more snow of course.
Today we have a reported 162cm at the summit in Meribel..todays temperatures at 3000m are -15 maximum !! So powder (15cm last night alone) is like sugar at the moment..
For those coming out for New Year expect mainly cold weather with lots more snow..so if you don't want to lose your skis..invest in some powder ribbons !!!
If driving make sure you have snow tires or snow chains this weekend. It could be chaotic coming up the mountain so try to arrive before 10am or after 5pm if possible…avoiding the worst.
Driving up to Meribel 1600 or Mottaret could be especially hard going. There is an area for putting on snow chains about 5 minutes after you leave Moutiers going up the mountain.
So enjoy your week. For later January it is looking superb right now too..next week bringing more snow..
25/12/17.
Just had 2 weeks of beautiful cold weather here in all trois vallees with blues skies and powder snow. Best start for many years.
21/12/17
Meribel Ready For Xmas
Well, I have to say once again what a fabulous start to the season. Powder snow everywhere on and off piste. Quiet slopes..perfectly groomed like velvet, blue sky, sun and COLD temperatures !! Still – 7 at midday yesterday !
If temps stay cold this will be the best season for 20 + years in my opinion. I do remember 3m of fluffy powder snow in mid January about 1987 ! We have nearly 2m already up top..and Val Thorens has 3m.! (But very busy over there ! Lovely and quiet in Meribel)
So fo those of you coming out for Xmas..and New Year should be great. For January bargain hunters..keep an eye out for the weather as more snow expected !
February ? We have enough snow already to more or less a good February and anyway it always snows for Paris holidays !
March and April..? Much more snow and we are guaranteed fabulous spring snow if the weather behaves itself ! (Sunny days and Freezing nights) .
I am still busy delivering magazines all over the mountains in 3 Valleys – albeit with some off piste powder excursions getting in the way a bit ! So restaurants and reviews start soon..
9am start today as usual as i can already see the stars shining outside..(7am here and dark). So another boring day in Paradise.
15/12/17
Nearly 2 m of snow at the summits of Meribel. Fantastic Xmas week coming up I think. Lifts open proper tomorrow. Powder everywhere !
14/12/17.
7TH HEAVEN – EMPTY MOUNTAIN- BLUES SKY AND POWDER
Cancelled magazine delivery yesterday when I saw the sun peak through in Mottaret at 8am…!! Went skiing instead and I was totally alone at Saulire mid station at 9.05 am !! Blue sky and sun while in the valley was fog and cloud !! PLUS knee deep powder on and off piste. Incredible.. 7th Heaven..
The conditions are truly superb this year. 1 M + at top. and another 1M expected over the next week !!
Next week looks like clear weather so should be fabulous. Plenty of bargains next week still..e mail for details if you can get away for a week. it would be worth it even for a weekend !!
With the base we have Xmas should be great as should New year be if temps stay cold.
Next e mail soon with further update on snow plus some new restaurants ,tapas bars,& ski lifts.
Sorry rushing out to ski again this morning before the next snow storm arrives later today they say.
Right now 8am..it is a clear sky outside, and VERY cold.. Super !!
9/12/17.
Loads of snow for first day of the season. A little cloudy and snow was heavy off piste. On piste was perfect for those pistes that were open. Top lifts closed due to avalanche risk.
7/11/17. It is looking promising right now with snow forecast all the way down to Brides Les Bains this week. Val Thorens has had about 50cm already. As at this morning Meribel town has a small amount of snow but a good amount has fallen on the higher slopes.
This season I shall keep this blog updated but do follow me live on Twitter or facebook. You can win a free bottle of wine with lunch if you happen to be in the same restaurant as me ! I tweet every morning if on the slopes and also give up to date weather for drivers heading up to Meribel or Mottaret.
A NEW MERIBEL CHAIRLIFT:
A new 6 man chair has replaced the old twin Roc Tougne drag lift. Sorry, us locals preferred it not change for selfish reasons. Lagopede was the best morning run in the 3 valleys !! Always quiet at 9.20am , usually pisted with good snow cover, AND in the sun. What more can you ask ! Anyway we always have the memories.
FREE PARKING IN MERIBEL :
This will be more difficult this season as the old Ravines car park is being developed as a multi level paid parking and I hear shops too. I shall get update on this shortly. You can still open park for free at Raffort if you don't use your car regularly.
NEW RESTAURANTS IN MERIBEL:
There is a new restaurant called "Close up " in the Galerie des Cimes, 100m up from the tourist office. It has a"Magic" theme as the owner is a magician who comes to your tables to demonstrate his tricks. Great for the kids maybe ?  Also Barometer Bar has been re- vamped and now has a separate restaurant section. I hear the Grain De Sel in Mottaret has changed owners. No idea yet about the food or the menu.  Ok, that's it for now.
My  next Meribel blog will be in a few days with an update on the snowfalls expected over the next 7 days!
 MERIBEL BLOGS 2016 / 17
THE NEW 2016/17 SEASON BEGAN 10th DECEMBER.
♦ Many ski resorts were closed but we managed to have all links open to the 3 Valleys. Our guys did wonders with the snow from the cannons. Until New Year it was quite ok on pistes that were open , if a bit limited and icy later in the day. New year being crowded was not so good but at least we did have snow.
♦ We had a poor start after the early snows in November. Sadly it got warm and all the lower snow melted. The pistes were actually not too bad till the busy New Year week, due to the 100's of snow cannons in the 3 Valleys.
♦ All links were open but some pistes were closed.
♦ Follow me on twitter for daily reports this season. Sign up on the home page.
MERIBEL SNOW REPORT: 2016/17
♥ 27/12/2016. Top of Tougnete Meribel on Boxing Day. We skied all the way down to St Martin old village.
♥ 14/01/2017. Mottaret: Under there somewhere is my car!!
♥ 16/01/2017. Another fabulous morning off piste down to Les Allues village freezing cold again – 18c at Chaudanne at 9am!
♥ 25/01/2017. This is the reward for first lift at chaudanne: Velvet corduroy. Just had a great 2 hours. The best time of the day. Well worth the effort!
♥ 03/02/2017. MORE SNOW TODAY. Heavy snow now expected in Meribel for the next few days.
♥ 09/02/2017. A fabulous morning sun blue sky and loads of powder snow everywhere!!
♥ 19/02/2017. 6 at 9am at Chaudanne Meribel today so snow cannons working still in 3 valleys.
♥ 01/03/2017. Nearly 40cm of new snow today.
♥ 07/03/2017. More new snow today 59cm.
♥ 10/03/2017. Another super morning. Great snow and quiet slopes in Courchevel today.
♥ 11/03/2017. MORE SNOW ARRIVED – 1 METER LAST WEEK – NOW GREAT.
Snow all over the 3 valleys is superb now. Off piste is a bit crusty though. This is due to high winds, some rain lower and now hot sunshine. Up to 20c down in the valley!! Spring seems to have arrived. If the weather remains cold at night with hot sun in the day then spring snow conditions should arrive soon. April is looking very promisingat the moment.
♥ 16/03/2017. Fabulous spring snow conditions today off piste.
♥ 26/03/2017. A superb morning of 20cm of new powder and blues skies.
♥ 27/03/2017. Icy pistes in the morning today but great after 11am.
♥ 06/04/2017. Superb powder day with blue skies.
♥ 12/04/2017. Fantastic charity day Meribel Village. The best apres ski of the season.
♥ 17/04/2017. Still great snow on piste above mid stations and superb sunny weather.
♥ 23/04/2017. End of season party at La Taverne. Still loads of spring snow up top and superb weather.
♥ 27/04/2017. Freezing cold and snowing today in Meribel centre.
2015/16 SEASON BLOG
♥ 29/02/2016. 05.00. NOT A BAD SEASON AT ALL SO FAR.
My apologies for the big gap in blogs. I have been concentrating on my weekly news letter and regular tweets. Forgot all about the blog!!! So for the seasonal history. 16th January saw the best week of the season for powder and good weather. 23rd January was great weather with good snow but no fresh powder to speak of. February has seen good snow all the month with mixed weather. Some sun but lots of smaller snowfalls and cloudy days. Some rain also at times under 2000m. The top half of the mountain has up to 2 meters of snow on it.This means we are set for a great March if the weather clears up. This week is showing more snow expected till Friday. Maybe some clear spells. As you drive up the mountain don't worry if it looks bare of snow lower down. Up here in Meribel it is fine right now. There are some great bargains to be had in Chalets for late march and April. Check out the best of catered chalets in Meribel.
♥ 26/02/2016. 10.40. A big queue at Tougnete 2 chair but it actually only took 12 minutes to clear it!! Afterwards – Fabulous morning of fresh powder!!
♥ 21/02/2016. First day of spring for Meribel. Such a beautiful morning. Superb snow warm sun blue skies.
♥ 19/02/2016. This is a day when you should be very happy to be in Meribel and not Val thorens. Complete total fog this morning above the tree line.
♥ 12/02/2016. Here we go yet again clearing off the car. Heavy snow over the last days and more coming. Get the chains ready!
♥ 06/02/2016. No problems on the roads apart from traffic maybe. It is 1st week of french holidays. Looks like 7 days of snow ahead of us!
♥ 26/01/2016. Groomed piste this morning in Courchevel. Like velvet. Looks like a superb week again here in 3 valleys. Sun and fresh snow
♥ 13/01/2016. 09.00. MORE AND MORE POWDER. 1.5m up top now.50cm at resort level.
♥ 07/01/2016. 06.30. POWDER PARADISE !!! Avalanch risk 4 out of 5!
♥ 01/01/2016. 15.30. SNOW REPORT FOR NEXT W.
♥ 25/12 2015. Limited snow yes but don't panic. We have enough on piste but no off piste obviously.
♥ 17/12/2015. SNOW LATEST. Basic but not so bad on piste as it is very quiet.
♥ 27/11/2015. 50cm now up top.
♥ 24/11/2015. 40 cm OF NEW SNOW. 10am.
♥ 21/11/2015. ITS SNOWING IN MERIBEL. 6am.
Yes. great news.. Meribel has its first real winter snow. The October fall was too early as usual.It melted away. But meribel is expecting 50cm this week and cold weather has come in. – 11 last night so the snow cannons will begin their work if not already on the go. They do not start too early unless they know the cold weather is here to stay. Snow cannons use loads of water and are expensive to operate. More blogs will follow now as the season begins. When the snow comes it will be here first.