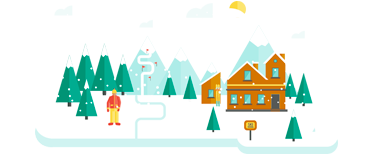 Meribel Blogs by the Meribel Moles:
Your Guide to the 2015/16 Ski Season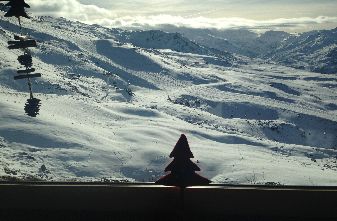 St Martin side of Meribel on 16th dec 2015. On piste skiing was fine and so quiet.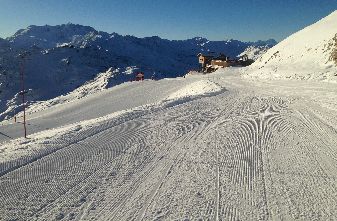 Top of Saulire Courchevel side. Perfectly groomed piste at 9.15am on 17th Dec 2015.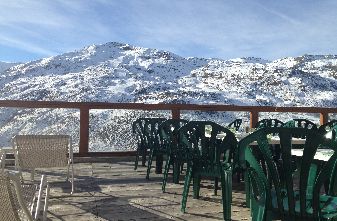 Lunch on l'Ours Blanc Les Menuires terrace. Beautiful sunny and warm weather. 22nd December 2015.
♦ December 2015 was a disaster in many of the low lying ski resorts. However in Meribel & the 3 Valleys there was reasonable on piste skiing right up till the start of New Year week. (as the above photos show).
♦ New Year week saw piste skiing possible all over the 3 valleys but with extremely hard and well worn conditions. This of course unavoidable due to the very crowded pistes.
♦ For the first time ever, seasonworkers were requested to not ski during New Year to give the tourists more chance of better conditions. The piste bashers as usual did a fabulous job each night with the limited snow to work with. So to sum up, December in Meribel was far better than the UK newspapers were reporting but New Year snow was dissapointing. The only redeeming feature was the fabulous sunny weather throughout the month!!

JANUARY 2016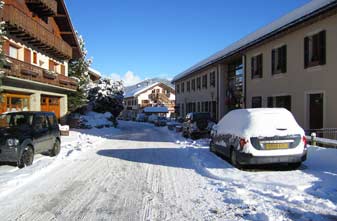 Les Allues Village In January 2016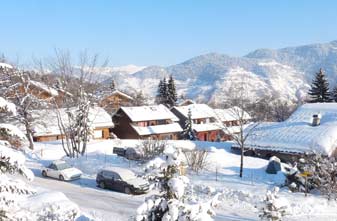 Mountain View From Les Allues Village. January 2016.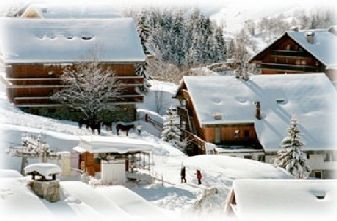 Meribel 1600. January 2016.
January 2016 in Meribel. After a slow start, with most of the French Alps having the limited snow in December, the start of superb snow arrived 2nd January. And it just got better and better as the month went on. January is often the best month of the season. Cold normally but great snow. The week of 16th Jan 2016 was the best of the whole season for combined weather and snow conditions.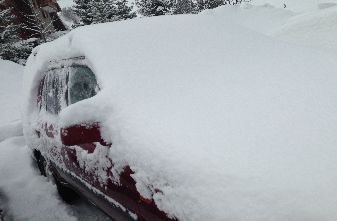 Cars buried again early morning 10th February. Meribel Mottaret.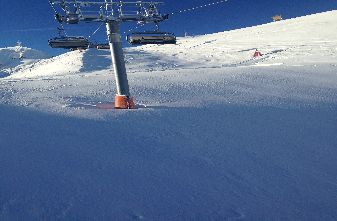 First tracks in the morning on the Tougnete side of Meribel valley. 5th february 2016.