Chalet Michel: 7 bedrooms – 14 guests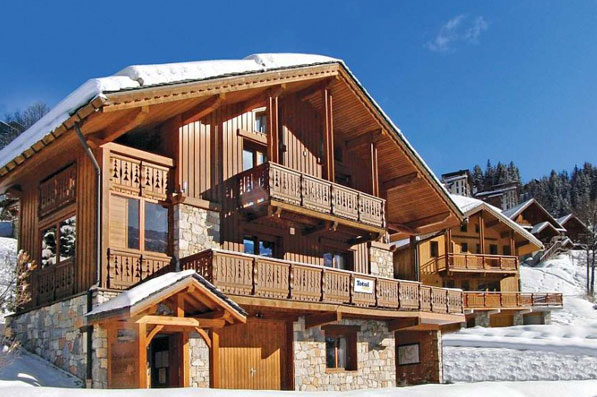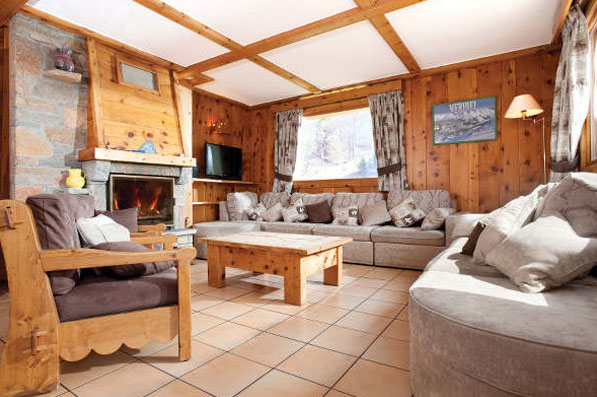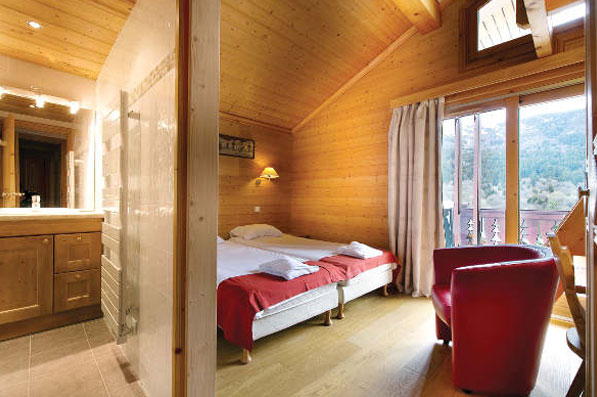 Chalet Michel is situated in the Musillon area of Meribel. The hustle and bustle of Meribel centre are a 10 minutes' walk away. The skiing access via the Chaudanne lift station is another 8 minutes walk past the centre. The chalet operator does lay on a minibus service in the mornings and afternoons running guests so the ski lifts and ski school meeting points in a matter of minutes. Meribel does have a good resort bus service too.
The Michel sleeps 10-14 guests in 5 en suite rooms. 4 of the rooms have a small mezzanine area that can sleep an extra guest but because these areas are up a steep and narrow staircase they don't work well for younger children. The living area is comfortable and boasts an open fire place, perfect for gathering around on a cold Alpine night with a glass of red in hand. The property has a brand new sauna and flat screen TVs and DVD players in all the bedrooms too.
Children are only allowed in this chalet if one party books the whole chalet or a peak week. If the chalet is not booked for sole occupancy and there are children in the chalet, the children will be served high tea and are not allowed to join the adult dinner.
BREAKFAST
A good breakfast is essential on a ski holiday, so we provide both a cooked breakfast including your choice of bacon, eggs, sausages and beans, as well as a continental selection with a choice of cereals or porridge, fruit juices, plentiful tea, coffee and bread (and croissants in France), cold meats, cheese and preserves, which is normally presented buffet-style for you to help yourself. On our staff's one day off a week, only the continental breakfast will be provided.
AFTERNOON TEA
The traditional 'welcome home' after a day on the slopes will be laid out for you in your chalet or Chalet Hotel, ready for your return, every day except on the staff's one day off per week. A good cup of tea or coffee is the perfect accompaniment to a delicious slice of freshly home-baked cake and keeps hungry skiers happy until dinner is ready. As an added benefit for guests in our Chalet Hotels, our chefs prepare a selection of cakes for afternoon tea.
CHILDREN'S HIGH TEA
In Chalets and Chalet Hotels with family guests, High Tea provides children under 13 years with a healthy menu, tailored more towards children's tastes and puréed food is available for infants on request. High Tea is at 5.30pm, and children do not join the main adult-only dinner.
DINNER IN CHALETS
A tasty and innovative, freshly cooked dinner will be prepared for you six nights per week by your Chalet Host – or by an experienced and professional chef in our larger chalets – and served with a choice of wines. Our four-course adult-only chalet dinners start with canapés and an apéritif, followed by an appetiser, main course and dessert, and completed by coffee with chocolates to round off your evening. Your choice of complimentary quality wines is unlimited during the meal service, and freshly chilled water is also of course always available.
VEGETARIAN AND SPECIAL DIETS
Vegetarian options are always on our 'Culinary Choice' menu in our Chalet Hotels, and are available in our chalets if you advise us in advance. Other special diets can generally be catered for at a cost of £35 per person per week. Any dietary requirements must be advised to us at the time of booking in order for us to be fully prepared.