Cristal Apartment: for 5/6 guests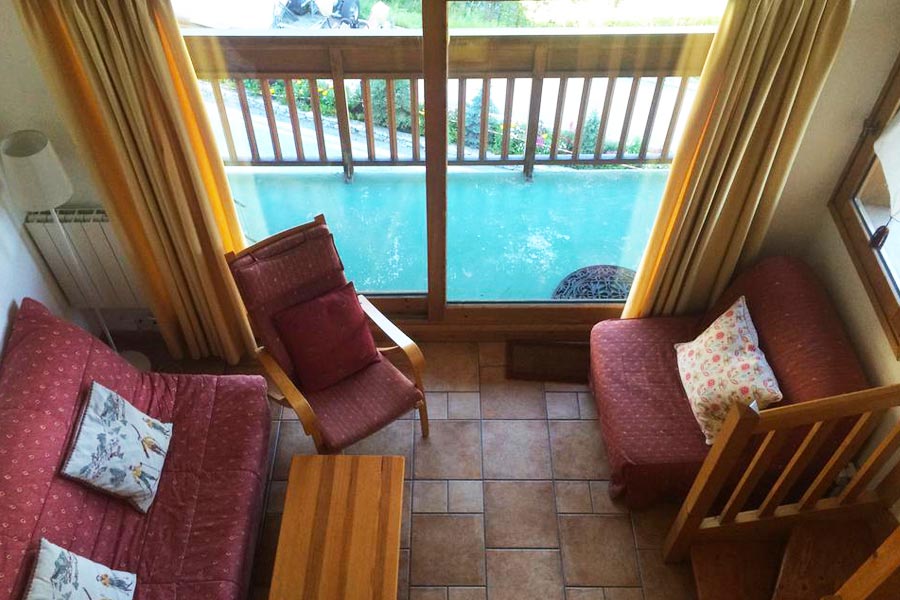 Cristal has a cosy mountain ambience and you will feel at home as soon as you step through the door. it is a duplex apartment and sleeps up to 5 people in comfort in 2 bedrooms, each with its own bathroom.
♦ Downstairs there is a double bedroom with a bathroom and toilet next door; upstairs there is a mezzanine with a double bed and a single bed, again with bathroom and toilet.
♦ We also have a sofa bed in the lounge to offer flexibility. Each of the bathrooms has a bath (with over-bath shower) so you can relax after a long day on the hill.
♦ The kitchen is fully equipped for self-catering with a microwave, an oven and and 4 ring hob.
♦ There is also a dishwasher to cut back on the chores. The living area has soft seating for 5 with wonderful views out over the balcony to the Olympic Express area of Meribel.
♦ There is also a dining table and chairs so you can eat in comfort. The balcony has sunshine from mid-day onwards and a small table and chairs let you sit outside and soak up the rays.
♦ The apartment also has an underground car parking space and ski locker available for your use and included in our rental cost.
♦ Although the nearest piste, by the Tourist Office, is only 250 metres away, you can also use the free local ski bus to reach different the slopes in different parts of Meribel.
♦ There is a bus stop right outside the front door.
♦ There are several different villages in the Meribel valley and our apartment is in the main centre and original resort.
♦ In addition to being at the heart of the slopes in the Meribel valley, its great central location means all of the resorts facilities are close by.
♦ Ski shops, bars, restaurants, nightclubs and two supermarkets are all located less than five minutes away.