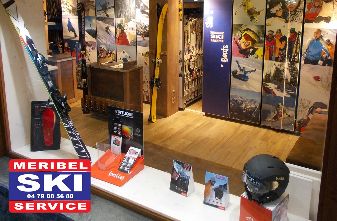 For an unforgettable ski or snowboarding adventure, the slopes of Meribel, France provide some of the best skiing and snowboarding in the French Alps. With a wide variety of terrain and plenty to explore, skiers and snowboarders from around the world come here to experience what this mountain range has to offer. But if you're looking for the best  experience, then make sure you have good equipment. If you do not have your own skis then it pays to rent your ski equipment from Meribel Unplugged's ski hire service. Here's why:
Quality Equipment for Every Level
Whether you're just starting out or have been hitting the slopes for years, Meribel Unplugged provides quality ski and snowboard gear that is suitable for all levels. With a wide range of skis and snowboards from brands such as Salomon, Rossignol, K2, Atomic and more, you can find something that fits both your budget and your skill level. The staff at Meribel Unplugged are also well-versed in helping customers find the equipment that best suits their skiing style. From beginner skis or boards designed for those just getting started on their first runs down a slope to advanced alpine skis with the latest bindings, engineered specifically for experienced riders who want maximum control while bombing down steep slopes —Meribel Unplugged has something for everyone.
Great Prices & Convenient Locations
Meribel Unplugged offers some great prices on rental packages that include not only skis and snowboards but also boots and helmets too. Prices vary depending on how long you plan on keeping your equipment so make sure to check out their website or call ahead before arriving at one of their convenient locations in order to get the most accurate pricing information possible. Although there are several locations throughout Meribel village itself, they also have outposts in many other nearby villages such as Courchevel and Val Thorens so you can pick up your gear wherever is most convenient for you before hopping on a lift up the mountain.
In addition to providing quality rental packages at great prices at convenient locations throughout Meribel skiing area, Meribel takes an extra step when it comes to being eco-friendly. Using green energy sources like solar panels they produce electricity right here in the resort – making them one of the safest resort providers in terms of energy usage – which helps them reduce their own carbon footprint as well as the overall environmental impact caused by skiing holidays in general!
Ready to hit up one of France's most treasured ski resorts? Whether you're a first-time beginner or an experienced rider looking for a thrill – with quality equipment rentals at great prices all over Meribel – renting through Meribel Unplugged is simply smarter! So, book your rental package today and get ready to experience this wonderful mountain resort with confidence!