Reservations:
+33 (0)4 79 00 00 07
Lunch
12.00 – 15.00

Dinner
19.00 – 21.30 Wednesday and Thursday evenings only
(Note: Other evenings private functions are possible by request)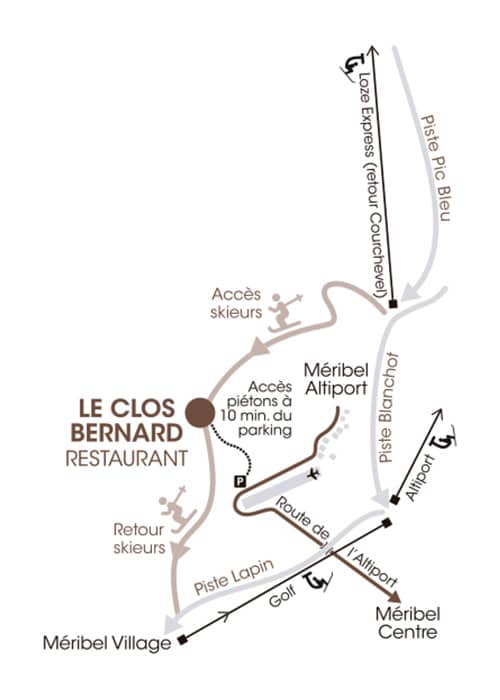 ♦ Le Clos Bernard is a unique & charming restaurant, set deep in the forest by the Méribel Altiport. It is reached during the day by skis, by foot or horse and carriage. In the evening the last 2 options are available.
♦ The restaurant is sign posted through the forest from the altiport parking area. It is open for lunch every day, and also on Wednesday evenings and Thursday evenings.
♦ There are special themes evenings with traditional savoyard music too: a wonderful evening in the middle of the forest at night.
A Savoyarde Menu Sample from 2018 Season.

Enjoy a warm welcome first with mulled hot wine around the outside cooking pot.
◊ Main Course:
Fondue Savoyard with 5 cheeses,potatoes,cold meats,green salad withnuts&vinagrette. +Dessert of theevening: 49.00€
Thursday evening is with the "à la carte" menu so no specialities such as cheese fondues. Instead the theme is Grills: (meat and fish dishes), with a special choice of meat for the evening all combined with a cosy ambiance. To round off your evening in the heart of the forest, dinner is followed by a DJ with music for dancing.
◊ Child Menu: 16.50 €
◊ Wine Samples & prices from the 2018 menu, (75cl)
(expect some changes for the 2019 winter season)
Gamay (red): 31.00 €
St Joseph (red): 49.00 €
Chignin Bergeron (white): 36.00 €
Provence (rose): 31.00 €