CHALET LA PETITE CACHEE  –  LES ALLUES VILLAGE
5 Bedrooms – 2 Doubles, 1 Twin, 1 Twin or Double
NOTE: This chalet can also be fully catered. Price on request.
Les Allues In Winter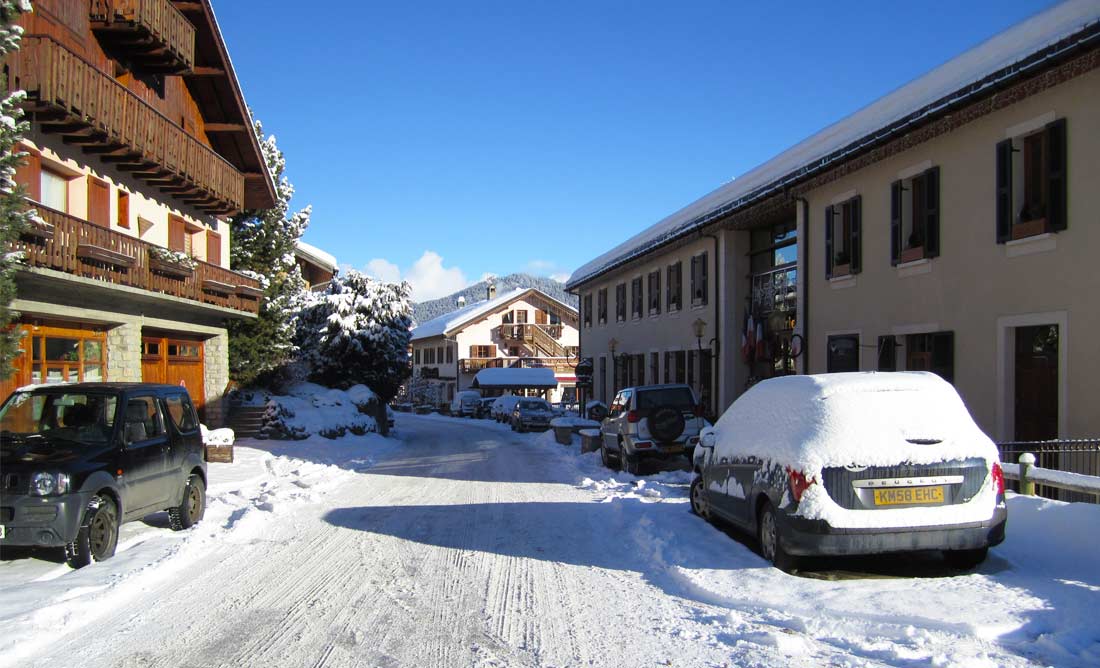 LUXURY 5 BEDROOM CHALET –   MERIBEL LES ALLUES VILLAGE 
3 Double Bedrooms , 1 Twin Bedroom, 1Twin or Double bedroom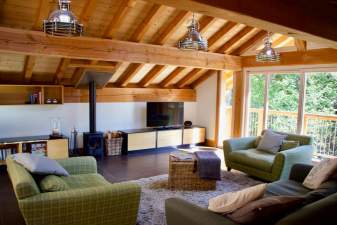 Chalet Lounge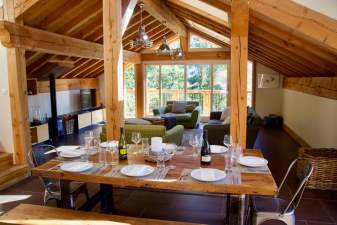 Chalet Lounge & Dining Area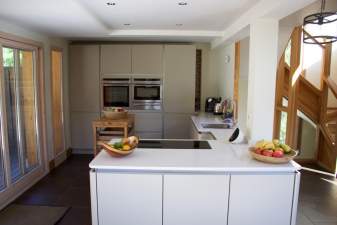 Chalet Kitchen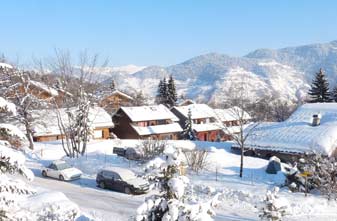 Les Allues Village
(Winter)
Chalet Views In Summer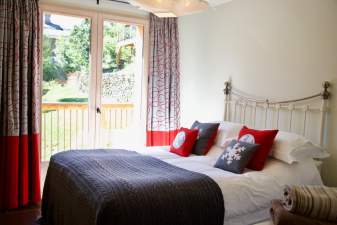 Chalet Bedroom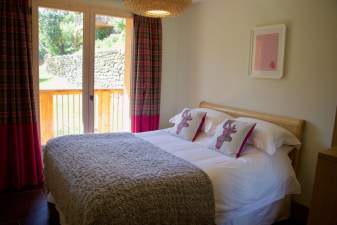 Chalet Bedroom
Chalet La Petite Caché is a beautiful 5 bedroom chalet. The chalet is finished to a very high standard and has the most amazing views looking up to Meribel and also over to bozel. If you are looking for a chalet thats in a lovely quiet spot and every view out of the window reminds you of where you are, then this is the chalet for you. However quiet the chalet is you are still within walking distance of Bars, restaurants and a small village shop.
The living room, kitchen and dining area has a lovely feel of space about it, quality furniture throughout. A very modern kitchen with not one but two very large fridge/freezers. The sliding doors from the kitchen open out onto a lovely large terrace, some of which is under the bridge, yes bridge!, that you enter the property from. Hopefully the photos show you what an amazing property this is.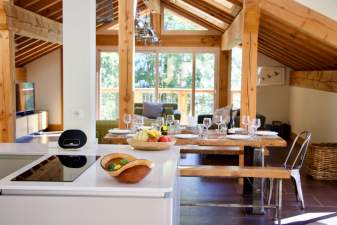 Chalet Dining Area
The chalet has 5 bedrooms, three double rooms, a twin room and one double/twin (either option is possible). The double/twin room has its own free standing bath and sink in it. The twin rooms is ensuite with a bath and shower and loo. Then there are two further shower rooms with a large showers, sink and loo.
This chalet comes with three undercover parking spaces.
Chalet La Petite Cachée is situated in the lovely alpine village of Meribel Les Allues. There are several ways of getting to the lifts in the morning. Firstly we would recommend you let us hire ski lockers for you right by one of the main gondolas in Meribel. This means in the morning you can go up to Meribel in your normal shoes either by the free ski bus or by the Olympic gondola, change into you ski equipment and off you go, all very easy.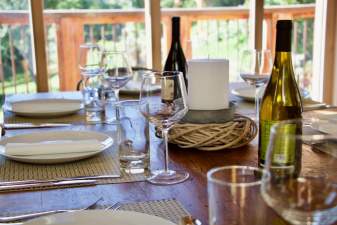 Chalet Dining Table
After skiing, change back into your shoes and either go home or go for a wander around Meribel, have an apres drink, maybe go swimming or ice skating. We think this is a great option if you have children. The ski lockers at Chaudanne can be rented weekly. The locker is very well heated and there are heated boot warmers for all the boots in the lockers.
If you want a private transfer to the slopes then we can arrange that for you.
Its possible to book the chalet catered or self catered, choice is yours.
The chalet is also available for rental in summer. Pets allowed. Please contact us for a quote.
We operate a no smoking policy within the chalet.