Chalet Piton: 3 bedrooms for 6 guests
Sleeps 6

Self Catered or Fully  Catered

Meal delivery service possible

1 double room w. en-suite shower room

1 twin room
1 twin mezzanine room accessed by ladder stairs

1 family bathroom

WiFi

UK Freesat television

French television
Ski store

Bed linen and towels provided

Ski access: free bus / ski back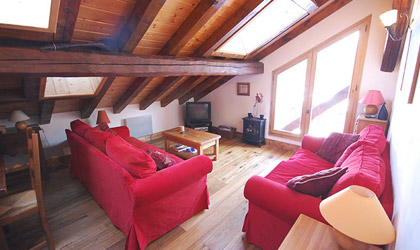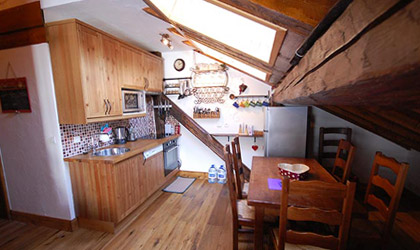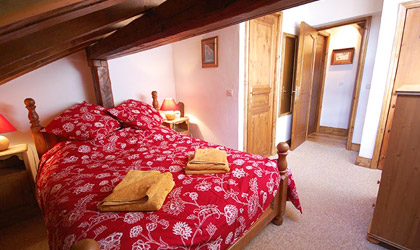 ♥ This chalet/apartment is situated in the peaceful village of Chandon. It is just 20 metres from the free bus stop and just minutes from Méribel centre, thus ideally positioned to give you a relaxing, rustic environment with all the advantages of a connection to anywhere in the Three Valleys, and to the Méribel nightlife just minutes away.
♥ Getting to and from the ski slopes is easy by taking Meribel's free bus, the bus stop being only 20 meters from the Apartment 5 Chalet Piton.
♥ The free bus journey passes through Meribel Le Raffort, where you can pick up the "Olympic gondola", Meribel Village, where you can take the "Golf" high speed chairlift directly to the nursery slopes or after just a 12 minute ride the free bus arrives at Meribel Chaudanne where there are five different lifts to start from.
♥ The apartment was recently renovated and is within a centuries old farmhouse. The apartment is directly under the roof and partly in the eaves so sometimes the ceiling is low and sometimes very high.
♥ Throughout there are exposed 200 year old beams from the original farmhouse. It has a large living room with dining table for 6 and open kitchen area.
♥ Our 'Top Tip' is to hire ski lockers in Meribel, the lockers are right underneath one of the main gondolas in Meribel Chaudanne. This means in the morning you can go up to Meribel in your normal shoes, change into you ski equipment and off you go, all very easy. After skiing, change back into your shoes and either go home or go for a wander around Meribel, have an apres drink, maybe go swimming or ice skating. We think this is a great option if you have children.The lockers cost approx. 50 euros for the week and can take 3 skis and boots per locker and 70 euros for a x4 locker The room is very well heated and there are heated boot warmers for all the boots in the lockers.
♥ Chalet Apartment Piton can accommodate up to six persons. Please note that the mezzanine twin room is accessed by a ladder stair and has restricted headroom.
♥ We operate a no smoking policy within the chalet.