Chalet La Coblette: 2 bedrooms for 4 or 5 guests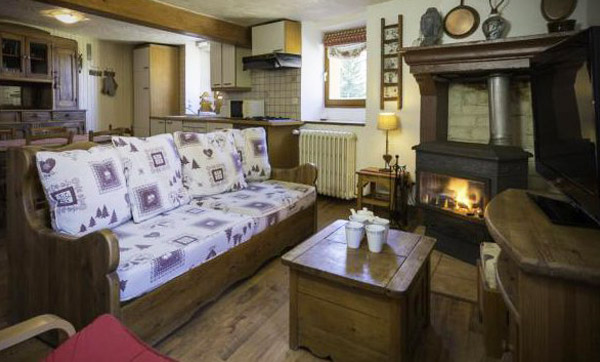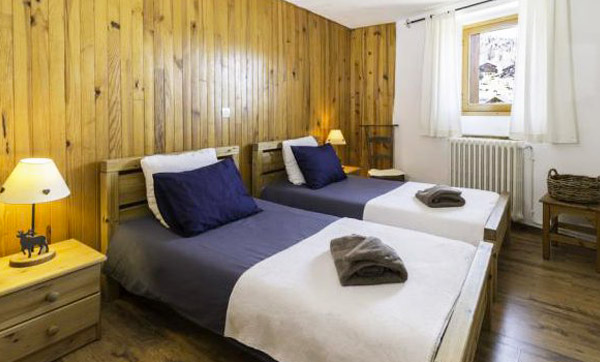 Chalet La Coblette is one of the smallest catered chalets on offer for your ski holiday in Meribel. This is absolutely perfect for a family of four, 2 couples or just four friends getting together for a ski holiday.
The chalet is where the original shoe repairer lived. However, in Les Allues as the women outnumbered the men the shoe repairer was a lady so Le Cobleur was renamed La Coblette.
This really is a lovely little chalet that has a fantastic location right in the centre of Les Allues village. The kitchen opens up onto the open plan living/dining area. The log burning stove is sure to draw you in to tell your tales of the day. There is also a small bathroom with wc and shower on this floor.
Upstairs there are two bedrooms and a bathroom with bath and wc. The bedrooms can be made up as either twins or doubles.
Breakfast
♥ Tea & coffee, fruit juices
♥ Croissants, pain au chocolats, a selection of cereals, porridge, baguettes, yoghurts and fruits
♥ Sunday – Full English
♥ Tuesday – Bacon & sausage baps
♥ Thursday – Eggs benedict / florentine
Afternoon Tea
♥ Tea, coffee & hot chocolate, soft drinks
♥ Baguettes, butter and preserves
♥ Sunday – Banana, walnut and chocolate chip loaf
♥ Tuesday – Fruit scones with strawberry jam and cream
♥ Thursday – Victoria sponge
Sunday
♥ Champagne reception
♥ Beer & Wine
♥ Canapés
Starter: Minted pea puree with garlic prawns, pastry basket & Parmesan crumbs Main course: Apricot pork log with dauphinoise potatoes, red cabbage, confit shallots, garlic balsamic broccoli & a honey pork sauce Dessert: Lemon panna cotta with lemon caramel
♥ Cheese board
Tuesday
♥ Beer & Wine
Starter: Garlic & tomato soup with pesto & crème fraiche with fresh baguette & butter
Main course: Chicken Kiev stuffed with Boursin & lardons, root vegetable coleslaw, herb crusted wedges & green salad
Dessert: Sticky toffee pudding with toffee sauce & cream
♥ Cheese board
Thursday
♥ Beer & Wine
♥ Canapés
Starter: Mushroom, spinach & goats cheese vol-au-vents with poached egg & pimento cream garnished with chives & red pepper
Main course: 3 Cheese risotto with poached chicken breast & a rocket & parmesan salad
Dessert: Tarte tatin with vanilla ice cream